Tag: bridal wear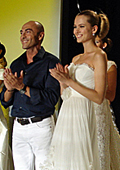 Trends
Pronovias - the leader on the world bridal wear market demonstrated high class during the fashion show, held in the Catalan capital Barcelona. Over 2000 special guests and official representatives of the brand from all over the world enjoyed the work of the indisputable geniuses – Valentino, Elie Saab and Manuel Mota.

New design, perfect cut, especially created fabrics and tender pastel colours will delight future brides.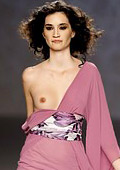 Fashion shows
For two days in Madrid at more than 20 bridal fashion shows were showcased the latest trends in bridal wear made in Spain.

Internationally-acclaimed Spanish designers like Duyos, Isabel Zapardiez, Jorge Terra and Hannibal Laguna revealed the trends in bridal fashion and underwear for 2010, which are inspired by the vintage style and use sheer fabrics.