Tag: celebrity clients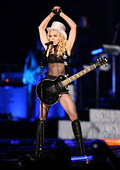 Body care
Plastic surgeon Cyrille Blum claims the 50-year-old singer has had a series of non-invasive treatments to help maintain her looks.

Blum said: "She looks the same as she did 20 years ago. She looks like a good Michael Jackson."

The cosmetic expert – who has a global A-list celebrity clients – believes the star's wrinkle-free skin is due to the emergence of a new procedure, dubbed the 'pillow face'.