Tag: defiles
Fashion shows
On 27th and 28th 2010 of August Dubrovnik Fashion Week International presented a series of fashion shows that took place on the open air catwalk set against a backdrop of perfectly preserved Renaissance and Baroque buildings, churches and palaces, within the historic walls of the Dubrovnik Old Town.

Major Croatian designers and fashion houses presented their collections including Hippy Garden, Juraj Zigman, Art Go'den, Mara Miloglav, Zjena Glamocanin, SMart and Marina Design.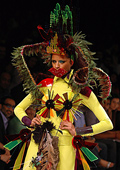 Curious
Increasingly more often at the catwalks we see bizarre garments, accessories and impressive scenery, which are turning the fashion défilés into a real show.

Just recently Karl Lagerfeld presented the Chanel's Fall-Winter 2010/2011 collection alongside a real iceberg and the models marched around it.

We offer you other unusual footage of fashion shows from this season.