Tag: fashion.bg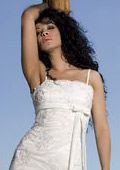 Fashion shows
As we wrote before, on 13 and 14 June 2009 at Grand Hotel Varna in "Saint Konstantin and Helena", will take place The 8-th edition of "Fashion Evenings". There will be presented fashion collections of Bulgarian designers.

Delfina, Orchestra - French clothes for children, Monro, Azalia boutique, Magi Lux, Holiday Sona boutique with the newest collection named "Butterfly" and designers Gergana Simeonova and Julia Jivkova with their official dresses will present their collections at the famous Bulgarian event.
Fashion magazines and books
On 1 August 2007 was officially announced the start of the electronic magazine for fashion and lifestyle "Fashion Lifestyle Magazine". Editor-in-chief is Assoc. prof. Dr. Lubomir Stoykov. The online magazine is published by the consultancy house "Ot igla do konetz" and Fashion.bg Ltd., the owner and publisher of the biggest Bulgarian fashion directory Fashion.BG managed by Mrs. Silvia Kabaivanova, who is the managing editor of the new editorial.