A new online magazine is born: Fashion Lifestyle Magazine
On 1 August 2007 was officially announced the start of the electronic magazine for fashion and lifestyle "Fashion Lifestyle Magazine". Editor-in-chief is Assoc. prof. Dr. Lubomir Stoykov. The online magazine is published by the consultancy house "Ot igla do konetz" and Fashion.bg Ltd., the owner and publisher of the biggest Bulgarian fashion directory Fashion.BG managed by Mrs. Silvia kabaivanova, who is the managing editor of the new editorial.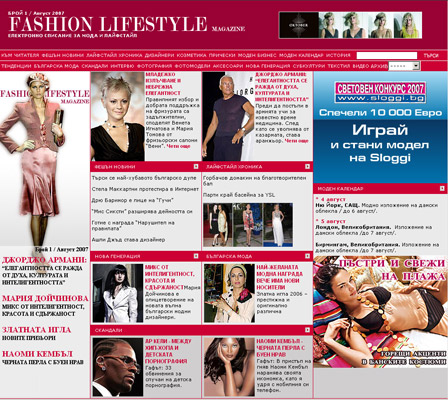 The aims of the team are "To create and develop a perfect online lifestyle magazine, which offers high professional norm for partnership between media and etertainment culture, between the world network and the leading values of life - health and beauty, intelligence and prosperity, awareness and critical attitude. Among its goals are the correct announcement of the fashion news, analyses and comments of the fashion events, balanced interpretation of the facts and trends in the national and world fashion design". Those are the words of the editors to their readers.
The leading accents are the innovative forms in the design of apparel, the understanding of fashion as an art, the analisys and support of the fashion business, stimulating the new generation of designers, the role of subcultures etc.
The first issue of "Fashion Lifestyle Magazine" offers a big article for Giorgio Armani with a lot of photos and videos from his latest fashion shows. The young designer Maria Doychinova is presented (she has assisted Roland Mouret and Hussein Chalayan) and for the first time are shown in Internet videos from her fashion shows in Vienna - "Gothic Andalou" and "not colour day". The readers can also find interesting publications about summer trends in swimwear, accessories, hair styles, fashion calendar and a lot more.
Hits: 24310 | Leave a comment