Tag: freshness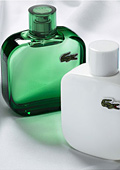 Fragrances
Lacoste presented its new fragrance collection L.12.12. It was inspired by the famous polo shirts Lacoste, created first by a French tennis player Rene Lacoste in the distant 1927.

The new collection includes 3 fragrances that match three colors of the polo: white, blue and green. L.12.12 White represents simplicity, elegance and freshness, blue symbolizes intensity, aquatic life and manhood, and green stands for nature and good vibrations.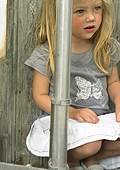 Fashion collections
Fabrics predisposing to gentleness and freshness of the silhouettes, elegance in design and appliqués – that are briefly the trends in children's fashion for the Spring-Summer season 2010 from the French fashion labels 3 Pommes, Jean Bourget and Absorba

Leading place in the girls' fashion take tunics, dresses, blouses with flowers and appliqués and skirts with veils.