Tag: hairdressing industry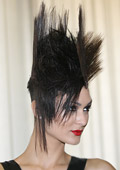 Competitions & awards
XVI Annual edition of the Festival of Coiffure and Beauty was held on October 20, 2013 in Hall 3 of the National Palace of Culture in Sofia, Bulgaria.
Once again the biggest event in the hairdressing industry gathered together many professionals and connoisseurs of beauty from Bulgaria and abroad.
The latest trends in hairstyles for Fall-Winter 2013/2014 were presented - both in the competition, where young hairdressers competed and in the Show of Nations.