Tag: inlays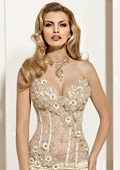 Fashion collections
This year, Israeli fashion Couture brand My Lady Haute Couture, designed again a collection of bridal and formal dresses for the Bulgarian representation of the company – Bridal Fashion. The gowns are made in one single piece of every model, with unique design made by the designer of the brand – Haim Bar.

The bridal dresses radiate in diamond white and ecru, and in combination of diamond white with latte macchiato.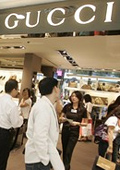 Accessories
Tireless designer Stuart Hughes is known for his amazing ability to transform almost everything into unique, one of a kind items, very often the most expensive in the world.

In collaboration with one of the most famous fashion houses – Gucci, Hughes created the most expensive belt in the world.

It costs 250 thousand dollars and its buckle is shaped like the Gucci logo with the double G symbol, made of platinum.