Tag: made of jewels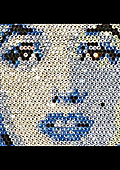 Accessories
The British mosaic artists and jewel cutters spend weeks carefully recreating photos using a selection of diamonds and precious gemstones.

Each 0.25 carat diamond and stone has a round brilliant cut finish and is hand-set into silver, gold or platinum of the customer's choice.

Portraits start from around 20cm x 20cm and contain at least 2600 stones such as sapphires, amethysts and peridots.