Tag: miss Bulgaria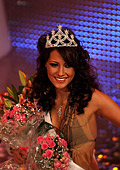 Competitions & awards
The 21-year old brunette Romina Andonova from Sofia took most of the awards at the beauty contest "Miss Bulgaria 2010", announced the organizers.

The beauty attracted the attention of the audience and the jury. Romina will present Bulgaria in the world finals "Miss World 2010".

The first runner up, according to the jury, with chairman Evgenia Kalkandjieva - Manova, is the 22-year old Yana Chinkova from Plovdiv. The blond is already popular being a weather girl in the television Pro.bg. She is also "Miss Plovdiv 2009".

From Plovdiv is also the second runner up - the 21-year old red hair beauty Zornitsa Stoycheva.
Models and photomodels
More than two weeks Elena Tihomirova, "Miss Bulgaria Universe 2003" is a part of the great experience called "Miss Universe". The final show of the competition is on the 3rd June and will be broadcasted live on NBC. In the prestigeous contest this year will take part 72 representatives from different countries.
Two of the preliminary rounds have passed - National costume and night dress. Elena was also interviewed by the jury. The dress, which the Bulgarian participant will wear on the 3rd June on the scene of Miss Universe, is designed by Maria Nedkova. The shoes, with which Elena will step on the unlikely sets of moving platforms, are specially made from the same textile as the dress by the Hinso-Rousse company.