Tag: miss World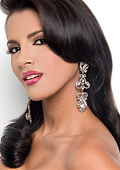 Competitions & awards
This evening in London took place the contest Miss World 2011, which had a record number of participants - 122. The crown of Miss World 2011 won the 21-year old beauty from Venezuela Ivian Lunasol Sarcos Colmenares, 179 cm. Her runner-ups are from the Philippines - Gwendoline RUAIS (2nd place) and Puerto Rico - Amanda PEREZ (3rd place). The top seven finalists were from Korea, Venezuela, England, Philippines, Puerto Rico, South Africa and Scotland.

The story of the beauty from Venezuela Ivian Lunasol Sarcos Colmenares is like a fairy tale. At the age of 8 years she became an orphan, when her parents died. Ivian was raised by the nuns in a convent in Tachira and was named Sora Ivian.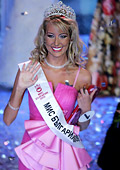 Competitions & awards
The new Miss Bulgaria is Antonia Petrova from the city of Pernik. The blond beauty is 24 years old and has two degrees in higher education - in Economics and Law. She will present Bulgaria at the contest Miss World 2009. The first runner up is Elitsa Lubenova from Dve Mogili, who is 18 years old. She studies in a school for folklore dances in Kotel, her dream is to dance on the scene of Bolshoi theater.

The title Miss Beauty of the World Bulgaria 2009 received the 17-year old Ruslana Kaneva from Sofia. She will present Bulgaria on the contest in China in April. Miss Tourism Planet is the 19-year old Polina Gergusheva from Sofia, who will represent Bulgaria in Athens. Polina writes music and wants to be a journalist.