Tag: mothers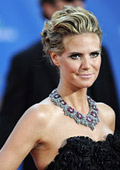 Fashion collections
Heidi Klum's new clothing collection is aimed at busy mothers.

The supermodel – who raises four children with husband Seal – says she decided to create the line, Heidi Klum for New Balance, because she wanted something comfortable and stylish to wear when she takes her kids to school.

She said: "Moms are doing so many things, we have so many hats on – go to Starbucks, meet a friend, go to a meeting – and you don't really want to do that in nasty sweatpants...