Tag: patients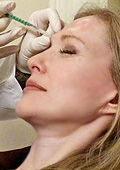 Health & Beauty
Researchers found that Botox injections, which smooth out facial lines by partially freezing muscles, also have uplifting side effects that make patients smile.

Psychologists studied 25 people – 12 of whom had Botox injections to the forehead, while the rest had fillers, peals or cosmetic treatments.

All the participants completed a mood questionnaire at least two weeks later.