Tag: posing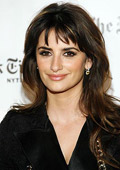 Lifestyle chronics
Penelope Cruz was in Madrid to pose for Vogue magazine, before the camera of famous photographer Peter Lindberg.

She posed pregnant, as did other celebrities like Demi Moore, Claudia Schiffer and Britney Spears. It is not known whether she will appear naked like the others or not, but the photos of Penelope are unpationately expected in the magazine.

Rumors about a possible pregnancy of the actress began circulating this year, after the appearance of some of her photos and the announcement of her marriage with actor Javier Bardem in July in the Bahamas.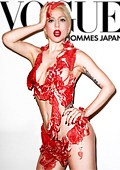 Fashion magazines and books
Animal activists have taken aim at LADY GAGA for posing in nothing but raw meat for a fashion magazine cover.

The pop star posed in a 'bikini' made entirely of slabs of red meat for the cover of Japan's Hommes Vogue - and campaigners at People for the Ethical Treatment of Animals (PETA) have been quick to react.

PETA President Ingrid Newkirk says, "Lady Gaga's job is to do outlandish things, and this certainly qualifies as outlandish because meat is something you want to avoid putting on or in your body. No matter how beautifully it is presented, flesh from a tortured animal is flesh from a tortured animal. Meat represents bloody violence and suffering, so if that's the look they were going for, they achieved it".