Tag: recession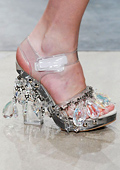 Accessories
The new shoes collection of Prada shown on Milan Fashion Week symbolizes the end of recession, according to many fashion experts.

In the new Miuccia Prada's shoes collection consist plenty of magnificence- glittered stones and crystals decorate the clothes and shoes.

The shoes for spring-summer 2010 are with semi-transparent hills which lighting in every step.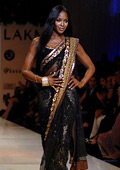 Models and photomodels
The outspoken supermodel claims advertising executives are shying away from using ethnic minority models in their campaigns because they "don't dare" risk losing sales.

She told Britain's Sunday Telegraph newspaper: "This year, we have gone back all the way that we had advanced. I don't see any black woman, or of any other race, in big advertising campaigns."
Lifestyle chronics
The fashion designer insists the current economic crisis has not affected him and encouraged people to "love each other" to get them through hardship.

He said: "I never pay attention to costs - it's not attractive to speak about numbers. Why can't we just focus on the beauty of an object?

"I don't know anything about the financial crisis. We'll make a recovery by everyone loving their life, each other, and being positive."