Tag: runner-up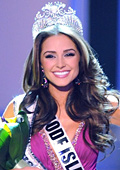 Competitions & awards
The 20-year-old cellist from Rhode Island Olivia Culpo won the Miss USA crown and will represent the United States in this year's Miss Universe pageant. She was chosen among 51 beauty queens on Sunday at the Planet Hollywood Resort & Casino on the Las Vegas Strip.

She is a 2010 graduate of St Mary Academy Bay View, an all-girls Catholic school in Riverside, where she was a member of the National Honor Society. She is a sophomore at Boston University.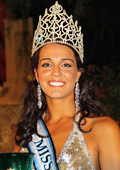 Competitions & awards
23-year-old representative of Gibraltar Kayane Aldorino was chosen as the most beautiful woman in the world for 2009.

The ceremony took place on 14 November in Johannesburg, South Africa.

The leggy brunette, dressed in white-lace evening gown, was crowned as silver confetti rained down onstage around her. Miss World 2008 " Ksenia Suhinova gave jeweled crown to the winner.