Tag: spring-summer 2011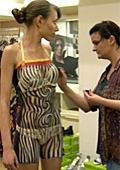 Fashion shows
The Bulgarian fashion brand Denyl presented its new collection in a non-standard way. The clothes were painted on the bodies of the models.

We have used to see the new designer collections at traditional fashion shows, where nice models pass on the catwalk and show the new trends. Yesterday in Sofia took place a non-standard event. For the first time the models did not wear the clothes, they were painted on them. "Our aim was to make the clothes live. Everyone can dress a model and make it walk back and forth. But not everyone can make the clothes live", explained the organizer of the event and author of the idea Mariana Germanova.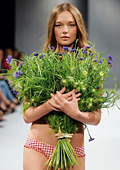 Fashion collections
LA VIE EN ROSE - Edith Piaf certainly didn't draw inspiration from the mascot of this theme, but she would have smiled when she saw our perky little pig on pyjamas, underwearand homewear for the whole family.

ROMANCE - We can almost smell the fragrance of this pastel-hued flowery bouquet blooming on microfiber and cotton underwear. The romantic atmosphere goes even further with broderie anglaise sets in classic white or the new denim effect. Nightwear has knitted or lace touches on soft Modal nightdresses and pyjamas.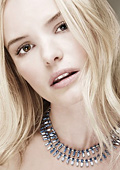 Accessories
28-year-old Hollywood actress Kate Bosworth appears in a new amploa. She joined the list of celebrities who become designers.

Together with her friend and stylist Cher Coulter, Kate created jewelry collection for Spring/Summer 2011 for the brand JewelMint.
The collection includes long earrings, necklaces and massive rings.