Tag: stays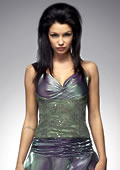 Trends
The new fashion line TN Fashion by TANI will be a pleasant surprise for the girls that finish school this year.

It brings a brand new taste by using the wonderba effect in the corsets design. The effect is achieved by delicate lifting, shaping and visual enlarging of the bosom. This gives the advantage of no need to go searching the most appropriate bra for the feast night.

The accents in the new graduation collection of this Bulgarian fashion house are deep necklines, naked backs, high slashes, dresses and corsets shaping the silhouette, multi-hemlines, asymmetry as well as the so-called lingings – a revived element back to the 80s fashion style.
World fashion

Offering designer brands including Ted Baker, Calvin Klein and Simon Carter, KJ Beckett specialises in accessories for men such as wallets, cufflinks, silk ties, fragrances, underwear, collar stays, and is renowned for its knitted ties and socks.