Tag: strawberries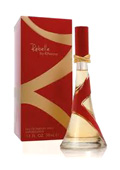 Fragrances
The pop star Rihanna is already a real business lady. The singer is about to conquer the perfume industry.

After her first fragrance "Reb'l Fleur" was sold very well on the market, the second scent "Rebelle" is the fastest-selling celebrity perfume in the UK. Since being released in February the fragrance has sold over 2 million bottles and is expected to sell a record-breaking 4 million by the end of the year.
Beauty tips
A typical summer picture: a fountain and in it people not wanting to get out - it's nice in the water, and there is only dust and intense heat outside of the fountain. There are ways however, to make life cool. All of the following recommendations are simple, practical and efficient. All you have to do is change your summer habits and heat won't be a threat to you.

The less cosmetics you use in summer, the better! It's worth to always carry thermal water-spray, that lots of brands offer. Spray your face, shank, wrists and elbow curves, and everything will be alright. If your feet are tired use cooling foot sprays.