Tag: super model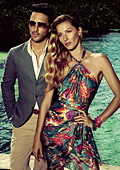 Models and photomodels
After shooting for Versace and Givenchy advertisements the famous supermodel Gizele Bundchen took part in Salvatore Ferragamo Spring-Summer 2012 ad campaign.

The photossesion was made against a background of deep Caribbean sea and shot by photographer Michael Janson. On some of the photos Gizele has teamed with sexy Canadian model and actor Noah Miles.
Lifestyle chronics
Super model Kate Moss has hired an exorcist to clear her London home from the "evil spirits". The model believes that her home is haunted and has called in a medium to deal with the problem.

The model, who lives in North London with her boyfriend Jamie Hins and 7-year-old daughter Lila Grace, has hired a medium to clear the bad energy, that haunts the property over the past few months.