Rihanna To Partner With PUMA
PUMA and Global Cultural icon Rihanna, announced a new multi-year partnership, kicking off in January 2015. Rihanna will become PUMA's global ambassador for Women's Training and serve as the PUMA Women's Creative Director, bringing her styling sensibilities and innovation to PUMA's collections. Embodying everything that PUMA stands for, Rihanna's unstoppable spirit, creative energy and prowess both on and off the stage, make her the perfect representation of the PUMA brand.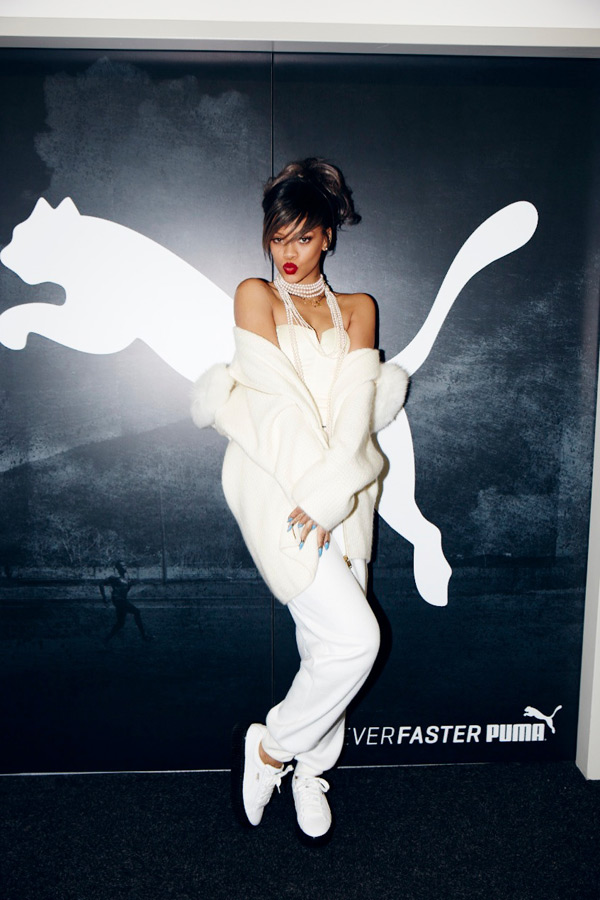 Through this partnership, Rihanna will be the face of PUMA's Women's Training category. Fans can anticipate PUMA and Rihanna taking a fresh, forward thinking and non-traditional approach to sports, fitness and lifestyle – fusing Rihanna's personality, love of sports, spirit and style into the growing footwear and apparel segment. No stranger to breaking the mold with beauty, fashion and lifestyle trends, Rihanna, with PUMA's support, will bring her personal touch and creativity to the athletic world.
Rihanna will also assume the role of PUMA's Creative Director for the category, directly influencing product collections as early as 2015, and working in partnership with PUMA's Internal Product Creation team. These collections will be designed with the goal of strengthening women in training sessions and beyond, and inspiring confidence in their bodies and themselves – the exact confidence for which Rihanna is so well known and celebrated. As part of her role, Rihanna will work with PUMA to design and customize classic PUMA styles as well as create new styles to add to the PUMA product portfolio.
Speaking about the new partnership with PUMA, Rihanna said: "It's great to find a brand that celebrates strength and individuality. I couldn't think of a more perfect partner to collaborate with as a creative director. I'm excited for you to see what Puma and I come up with."
Rihanna will play a starring role in PUMA's brand campaign, Forever Faster and be featured along with many of PUMA's world-class athletes such as Usain Bolt and Sergio Aguero. PUMA and Rihanna will launch several fan activations throughout the partnership around the world such as consumer and retail events, training and fitness related social media content, and product programs.

Photos and information: puma.com


Hits: 5570 | Leave a comment