A new era for Denim - Spanish top model Blanca Padilla presents the latest in SUITEBLANCO jeans
Without a doubt, this will be one of the winning trends in the upcoming season. Denim fabric transcends its basic status and is set to star in the launching of the new SUITEBLANCO collection. Blanca Padilla, one of today's most desired Spanish top models, is its ambassador.
Everything from essential jeans to shirts, jackets and skirts that will revive your most feminine side; denim clothing will be what people are talking about this spring. Denim has an infinite capacity to recreate a variety of different themes, as is demonstrated in the fashion brand's first campaign in 2015.
In navy blue tones, we find looks that combine comfortable jeans – generally straight capri length or shorts – longer than in previous seasons – with lightweight knit nautical striped T-shirts. A summery touch in which the guiding theme is always indigo blue denim, combined with the three flagship colours of this inexhaustible trend: white, navy blue and touches of red.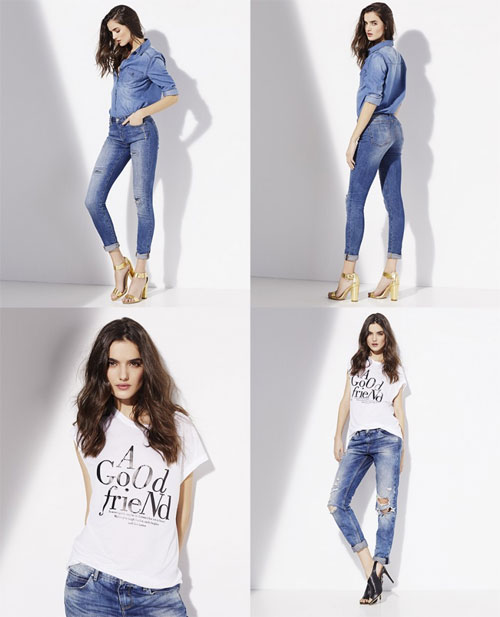 During the day, soft forms and combinations. A predominance of sky-blue tones, featuring a washed effect that lightens the range of colours, makes outfits more appealing due to the pleasing nature of the clothing and the concessions to fun elements such as polka dots, discreet tears and floral prints. Although the boyfriend model – which continues to evolve towards a less wide and thus slimmer silhouette – remains as the first choice in terms of comfort, the most important novelty is the return to the bootcut, reminiscent of the bohemian trend that is reborn with the spring.

Short, lightweight guipure tops, with appliqués or semi-transparent, impart romanticism and emerge as the best combination to achieve the sweetest and most feminine look in denim.

Personality is reserved for the realm of 100% denim outfits, which combine different finishes to create successful contrasts. Without a doubt, super skinny trousers – rolled up at the ankles to make them even more evocative, if possible, are the perfect fit if you want to amp up the attraction.

To complete each look and ultimately define your style, footwear is key. For its most informal proposals, SUITEBLANCO is going for casual shoes and wide heeled sandals, along with back-in-style mules, as the perfect solution to make denim the sexiest fabric.

Photo and information: suiteblanco.com


Hits: 9119 | Leave a comment