'The New Dimension' - WWD Men's Summit 2015
Yesterday (March 26, 2015) in New York, USA, at the Asia Society, was held the WWD Men's Summit, named 'The New Dimension' and focusing on the growth that menswear is showing this year.
Many industry insiders and menswear minds were there to discuss topics like: challenges and opportunities in today's marketplace, how retailers are reinvesting in the menswear business, relentless pursuit of innovation, what's next for the menswear market.
Top executives from brands and retailers like Calvin Klein, Brunello Cucinelli, Coach, Ami and Saks Fifth Avenue, featured the event.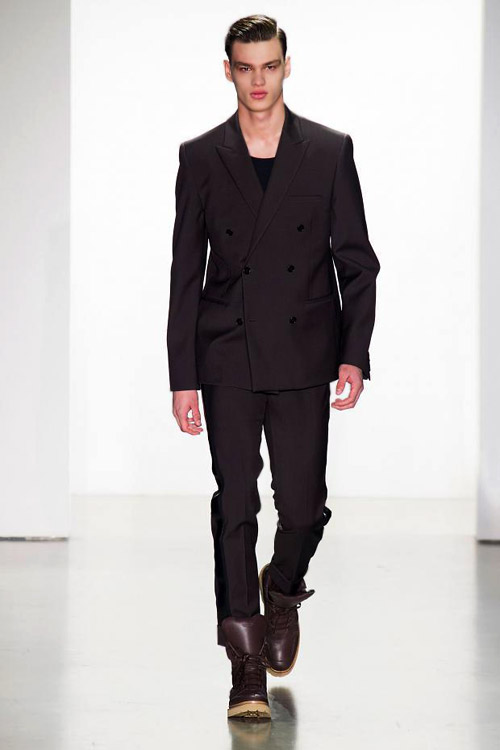 The trends are that designers offer more daring clothing and footwear collections, while retailers choose non-traditional concepts, like unisex shoes.


Take a look at some fashion giants' opinion about the changing men's market:


Italo Zucchelli, men's creative director, Calvin Klein Collection and Calvin Klein Inc.: 'I think fashion is supposed to move forward. Menswear changes so fast. I try to balance iconic and innovation. I've always had a fascination with odd fabrics and materials, they help to push a new message. But I like to reference something both familiar and unfamiliar. I caused a stir when I put guys in long swimsuits, which were inspired by an Australian swim team. I watched a video of the show after, and people were talking and talking. In retrospect, it was kind of the perfect Calvin Klein moment: creating something controversial and provoking.'


Todd Snyder: founder and designer, Todd Snyder: 'I wanted to build a brand around American classics, but I wanted to reinvent that and update it. For the last 10 years, it's unbelievable how men have become incredible connoisseurs - of whiskey, food, clothing, art. The millennials have really changed [the market]. They want to know who makes it, why they made it, where it comes from. They don't just want to go to a department store or buy it online, they want to be able to get it everywhere.'


Thomas Ott: SVP and GMM, Saks Fifth Avenue: 'It is a super exciting time [for menswear]. A lot of young musicians and athletes are dressing up, so guys in their twenties and thirties are interested in fashion. It's one of the best-dressed generations we've seen. Our buyers spend a lot of time in the marketplace looking for newness. Even if you look at the more classic brands, nobody wants to be the old fogy anymore - their product and models are more updated. Our new [Brookfield Place] store will be 85,000 square feet, with both men's and women's. There will be a men's floor. That whole area is revitalized, and it makes way for a whole new shopping customer.'


Photo:
A model presents a creation of the Spring-Summer 2015 menswear collection by Calvin Klein


Hits: 6070 | Leave a comment