Tremendous applause for the catwalk show of Markam Fashion during the Fashion Premiere in Salzburg
The premiere of the new Spring 2008 collection of MARKAM FASHION had an enormous success during the exhibition in Salzburg.
In the fashionable arena in the city of Mozart MARKAM FASHION participated for the first time and was the only Bulgarian company there.

The international audience gave a hearty welcome to the new fashion collection of MARKAM FASHION, which was appraised as highly successful.
Impressive world top models presented the designs of the Bulgarian company throughout the 2 days at 4 catwalk shows. Nikolay Buzov, the couturier to the brand MARKAM, chooses in his proposals for Spring 2008 the classic black and white, the sheer dresses and blouses in champagne, silver, and the shady colors in the modern line of minimalism.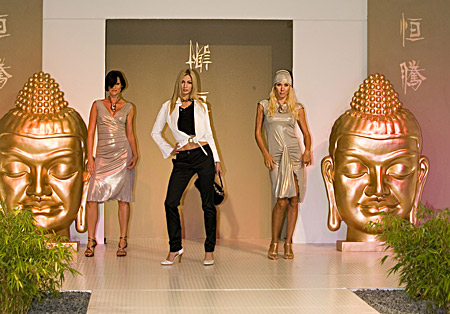 In the three – day fashion fair between 5th of August and 7th of August there were 400 exhibitors from all over the world, among them Gerry Weber, Steilmann, Betty BARKLEY, La Strada, Arena, Blizzard, Camel active et c.

The new fashion collection brought huge trade success to the brand name MARKAM not only during the Fashion Premiere in Salzburg but in the Fashion exhibition Order start in Vienna, which took part in the beginning of August. That consolidates undoubtedly the position of MARKAM in one of the most prestigious fashion regions in Europe.


Hits: 10705 | Leave a comment