Bulgarian Soirée
Wouldn't it be nice if savvy people could meet in chic, casual venues and experience the taste and tradition of other cultures?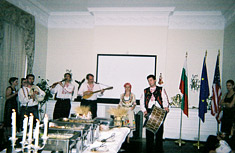 Professionals in the City, a Washington, DC-based organization with over 100,000 members, hosts a myriad of social events, from sunset kayaking to Carnaval 2008 in Rio de Janeiro, Brazil.
On July 27, Pros in the City hosted "An Exciting Evening at the Embassy of Bulgaria" in the Nation's Capital (USA) at the Embassy of the Republic of Bulgaria. Guests were welcomed by a delightful embassy staff and ushered into a sizable room decorated with Bulgarian artifacts, where a buffet-style dinner of ethnic cuisine was tastefully presented.
The meal included salad shopska, salad snejanka (Bulgarian tzatzaki), spring salad, stuffed mushrooms, Burgas-style mussels from the Black Sea, scrumptious shrimp, an assortment of cheeses (Brie, Blue, Gouda, and mellow goat cheese) and liutenitza, a traditional Bulgarian mixture of cooked tomatoes and peppers, Balkan salmon, chicken Kavarma from Thracia, Radomir-style grilled pork, and stewed vegetables.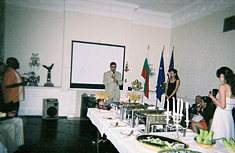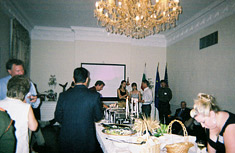 To introduce and acquaint guests with the climate, history, culture and tradition of Bulgaria, the Embassy presented a screened documentary about Bulgaria and Dr. Dimitar Mihaylov, First Secretary for Political and Cultural Affairs, prepared a brochure describing the location, population, history, politics and religion of Bulgarians. Included in the brochure were important and breathtaking landmarks such as Sofia Narodno sabranie Square (the Capital of Bulgaria), Rila Monastery, Melnik sand mountains and Velike Tarnova (Tsarevets).
Lyuti Chushki, a traditional Bulgarian folk music band, was the highlight of "An Exciting Evening at the Embassy of Bulgaria". Lyuti Chushki in the Bulgarian language means "Hot Peppers," which describes the zesty, traditional Bulgarian music skillfully played by this band.
A five-member group consisting of Bulgarian and American musicians formed Lyuti Chushki and began playing together as a band in 1997.
Vocalist, Tzvety Weiner, is a native Bulgarian who grew up in Plovdiv surrounded by a family immersed in Bulgarian folk music. Tzvety, however, only recently began singing traditional Bulgarian folk music in 1998 during her studies in computer science at the University of Maryland at College Park.
Kaval player, Valeri Georgiev, of Nikopol (Northern Bulgaria) "attended the prestigious Philip Kutev Folk High School of Music in Kotel, Bulgaria," where he studied Bulgarian folklore and played the kaval (end-blown flute).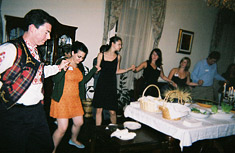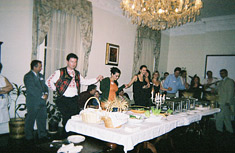 Len Newman of Silver Spring, Maryland is an expert tambura player. Len also plays many other stringed instruments from Greece (Laouto and Bouzouki), Serbo and Croatia (tamburica), and Macedonia (tambura). Len developed an interest in Bulgarian traditional music and dance as a student.
Varol Saatcioglu, plays the gaida (bagpipe) for Lyuti Chushki. Varol is from Edirne, Turkey, where he was "accepted into the prestigious Municipal Conservatory of Istanbul" at the tender age of 5. There, he studied music theory and piano. Varol's mother was also a piano, music and folkdance teacher.
Larry Weiner, the manager of Lyuti Chushki and also husband to Tzvety, plays the tupan (large drum) and the tarabuka (small hand drum). Larry's skill and love of playing Balkan traditional music spans thirty years. He has taught several Balkan dance workshops and music camps throughout the United States.
Together, Lyuti Chushki induces a lively sensation. During the Embassy event, band members played music from various Bulgarian regions. The Southern Bulgaria music was very calming and relaxing, while the music of Western Bulgaria had a energetic, upbeat tempo. Northern Bulgaria's music was cheerful, yet mellow.
It wasn't long before guests were locking arms, forming a circle and taking part in Balkan dance to the tune of Lyuti Chushki's music. Even Jen Rudez, event planner for Pros in the City, took part in this entertaining experience.
In a conversation with First Secretary, Dr. Dimitar Mihaylov, after the event, I learned that it was his hope to bring people of diverse backgrounds together through the experience of Bulgarian music and culture.
By working together, Dr. Mihaylov and Pros in the City created an exciting and memorable evening at the Embassy of Bulgaria.
________________________________________________________________
Pervenia P. Brown is a freelance writer in the Washington, DC Metropolitan Area (USA). Ms. Brown is a graduate of University of Maryland at College Park, where she earned a Bachelor of Arts degree in History. Ms. Brown has written articles for HELM (Ethiopian fashion magazine) and Washington Woman.
Hits: 37347 | Leave a comment