Tag: social events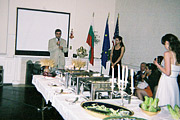 Lifestyle chronics
Wouldn't it be nice if savvy people could meet in chic, casual venues and experience the taste and tradition of other cultures?

An Exciting Evening at the Embassy of BulgariaProfessionals in the City, a Washington, DC-based organization with over 100,000 members, hosts a myriad of social events, from sunset kayaking to Carnaval 2008 in Rio de Janeiro, Brazil.

On July 27, Pros in the City hosted "An Exciting Evening at the Embassy of Bulgaria" in the Nation's Capital (USA) at the Embassy of the Republic of Bulgaria. Guests were welcomed by a delightful embassy staff and ushered into a sizable room decorated with Bulgarian artifacts, where a buffet-style dinner of ethnic cuisine was tastefully presented.