100% Merino wool outerwear by Woolrich
In the early 19th century, John Rich II, son of an English wool carder, set off from Liverpool across the Atlantic in search of a new life. He went on to found the Woolrich Woolen Mills in Pennsylvania in 1830 and travelled from logging camp to logging camp selling his first wool products: wool fabric, wool socks and basic wool garments.
Since its establishment 185 years ago, the Woolrich product is still essentially rooted in the clothing needs of American pioneers: from the early lumberjacks and farmers through to the workers who took part in the construction of the great Alaskan Pipeline.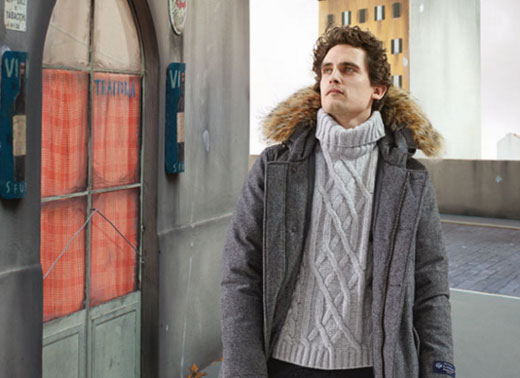 However, the Woolrich John Rich & Bros brand today has also grown across Europe and Japan, with the company now combining the brand's historical identity with a contemporary interpretation of iconic Americana, incorporating worldwide design influences and a sophisticated take on outdoor and utilitarian style.

For this year's European Autumn/Winter season, Woolrich John Rich & Bros launched two new versions of its famous Arctic Parka – the Polar Parka and the Mackinaw Parka – both made with Loro Piana's 100% Merino wool Storm System® fabric.

With support from The Woolmark Company, Woolrich John Rich & Bros has undertaken an advertising campaign across Europe, promoting the Merino outerwear in magazines in Italy, Switzerland, Germany, France, the UK and the Netherlands.

"It has been an amazing campaign run in key markets in Europe, focused on positioning Merino wool as a premium fibre and showing that Merino wool can be very well suited to outerwear," The Woolmark Company Country Manager for Italy Francesco Magri said.

"The advertisements have featured in more than 10 magazines here in Italy, and magazines in other European countries such as GQ France and Men's Health in Germany. The initiative is promoting Merino wool apparel that is commercially available to consumers."

The advertisements incorporate the Merino Wool. No Finer FeelingTM branding, establishing Merino wool as the fabric of choice for fine, contemporary apparel. The initiative is helping The Woolmark Company to promote the natural benefits of Merino wool to international consumers through collaborating commercial partners.

The Lora Piana Storm System® fabric consists of a double barrier fabric. Firstly, a water repellent Rain System® treatment ensures that drops of water slide on the outer surface of the fabric, enhancing its water repellency and protecting it against dust, dirt and liquid stains. Secondly, a thin and extremely light microporous absorbent membrane, applied to the back of the fabric, is windproof and allows the skin to breathe.

Information: woolmark.com


Hits: 6763 | Leave a comment