Surmesur Pittsburgh builds new bridge to custom menswear
Surmesur Pittsburgh is now open for business at 202 Fifth Ave., after the company spent more than a year in search of just the right fit for its original shopping concept, which blends traditional tailoring methods with technological innovation.
"Our concept is to democratize made-to-measure menswear by making it accessible to everyone, and after lots of planning, all the stars aligned to allow us to come and share with the people of Pittsburgh," explained François Thériault, who co-founded the company with his brother, Vincent.
With shirts starting at $60, suits starting at $375, and more than 8,000 quality fabrics to choose from, Pittsburgh shoppers will have plenty of reasons to discover what the brand has to offer, said Vincent Thériault.
"We're proud and excited to be opening our first U.S. store in Pittsburgh," he said, adding, "The city's many sports fans are sure to find some really great combinations of black and yellow."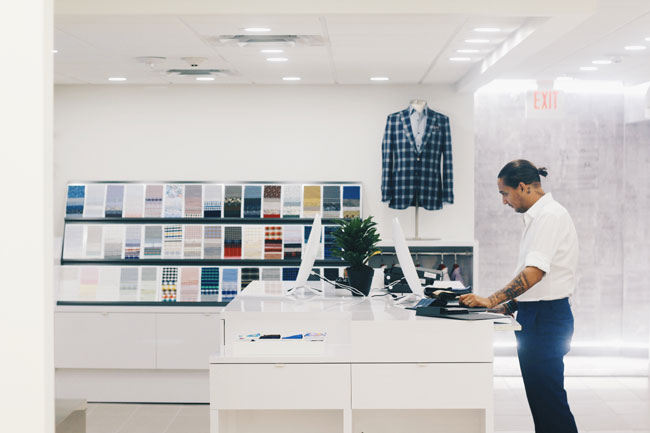 The brothers launched Surmesur in 2010 in Québec City, Canada, because they wanted to create a shopping experience they themselves could not find in retail stores. The idea proved so popular that Surmesur has enjoyed steady expansion, opening five locations in its first five years of operations, including in Montreal and Toronto. The Surmesur experience starts with a four-step process: the selection of fabrics, followed by the selection of options from collars to cuffs to buttons and more, the taking of measurements by the company's measurement specialists, and finally, the fitting.

The company combines traditional tailoring with technological innovation, as clients who open an account get access to The Studio, an online creation program that allows them to design their made-to-measure suits and shirts and to view the finished product before placing their order, all from the comfort of home. More such innovations are in the works, as the company continually strives to take the made-to-measure experience to the next level.

The Pittsburgh location is the seventh for Surmesur, and the first of several new stores slated to open in the coming months, including in Chicago and other major centers both in the U.S. and in Canada.

Photo and information: www.surmesur.com


Hits: 4974 | Leave a comment