Quick Draw Minimalist Wallet: Stylish, Functional, Exquisite
Carry the things you need & access them easily with their patent pending "Quick Draw" Wallet. Easily remove any card with a single touch.
Tired of having to dig your wallet out of your pocket every single time you need it or having to use 2 hands to access your credit card? You shouldn't have to and that's why the BRYKER HYDE® Quick Draw Minimalist Wallet is the answer! Easily remove any card with the touch of a finger or thumb.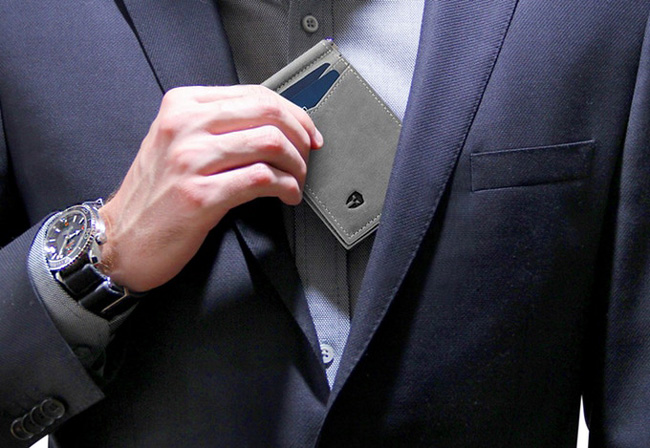 Quick Draw Minimalist Wallet:
Pragmatic in its Functionality & Slimness
Protected from Identity Thieves (RFID/NFC blocking)
Aesthetically pleasing; complete & superior attention to detail
Pragmatic in its Functionality & Slimness
This resourceful, patent pending wallet comes with "V" shaped card pockets on the front and back of the wallet that allows you to easily remove your cards without taking your wallet out. But don't worry, your cards are securely held in place and won't fall out until your finger or thumb provides the right amount of pressure.
Wallets shouldn't be holding origami so stop folding your bills to fit them in your wallet and use the removable & reversible money clip to efficiently hold your cash. Besides who wants to be unfolding and counting bills in a public place?
Forget the hassle of fumbling through your wallet looking for your ID or carrying your ID in a side pocket. Time to upgrade! Their ID window can easily accommodate two cards so go ahead and carry an extra ID behind your driver's license and easily access them with a flick of a thumb.
The ultra slim, compact design makes it the perfect every day wallet no matter the occasion. It provides comfortable front and back pocket wear and effortlessly fits in any standard pocket imaginable: pants, coats, jackets, messenger bags.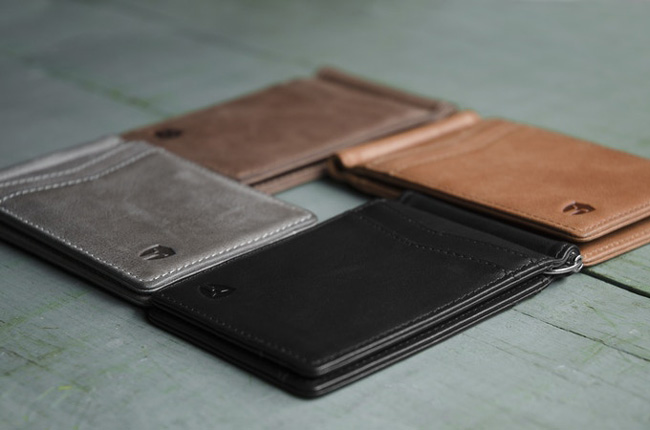 Few things can be as damaging to your life as having your personal information fall into the wrong hands. The massive data breach at Equifax in 2017 demonstrates how far reaching and astute identity thieves are becoming. Protect yourself by using the industry leading RFID/NFC blocking technology made of a unique blend of composite metals. In fact, we block both low and high frequencies when most only block the latter. This protection is placed throughout the entire exterior and interior of the wallet and provides you safety, security, and peace of mind.

The artisan wallet is made out of handpicked Full Grain Leather that will age beautifully over time; taking on a natural character unique to every wallet. In fact, the more you use it the better it will look! Full grain refers to the strongest and most durable part of the hide of an animal, which is just below the hair and has not been sanded, buffed or snuffed in any way. Meaning your wallet displays the highly desirable natural grains or characteristics of the leather.


Hits: 7063 | Leave a comment