REDA received the ethical fashion award "303 TUSCANS" at Milano Unica
"We believe in Sustainability and are willing to share its values. If you are not ready, you can still back away."
REDA 1865
At Milano Unica REDA was one of the brands that received the "303 TUSCANS" award for ethical fashion. It is awarded to manufactures of fabrics made from natural materials, following the principles of Ethical fashion and having transparent supply chain.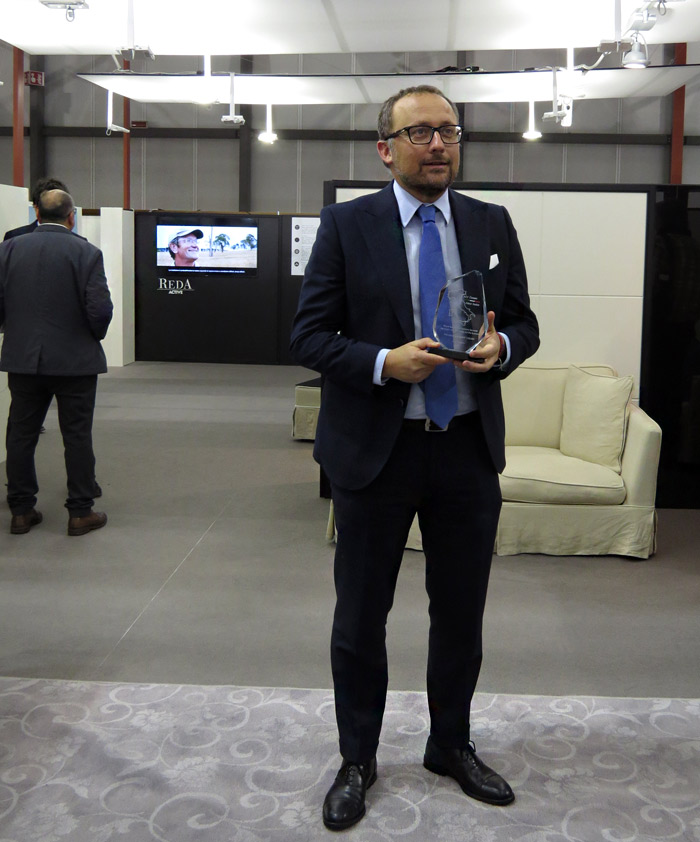 Ercole Botto Poala, CEO Reda
Reda presents new collections to its customers twice a year, proposing on average 2500 fabric variations which resulting from an ongoing study in style. The natural elegance of Reda products derives from an attentive reinterpretation of the most classic of tailoring designs; the refined design style and the discreet use of the color range reflect good taste and class, representing the very essence of Made in Italy products.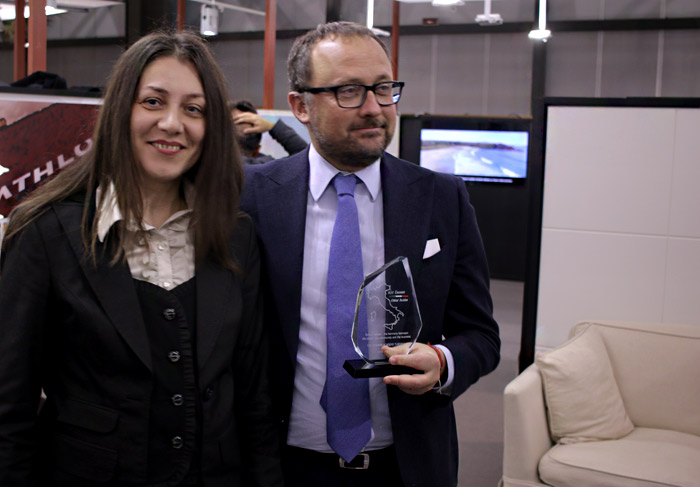 Silvia K., Editor-in-chief of BGFN and Ercole Botto Poala, CEO Reda

Respect for people, the product and the environment: these are the values that move the Reda wool mill, the only wool mill in the world certified by EMAS, an Eco-Management system that requires not only full respect of the limits set by the law but especially the continuous improvement of its environmental performance. Reda has undertaken to respect a well-defined environmental policy and publishes an Environmental Declaration to inform the public about the activities it carries out.

Environmental protection is considered an imperative policy based on the aim to:

- Ensure compliance with environmental standards through constant monitoring
- Protect the environment by evaluating all the environmental impacts, setting goals for improvement and undertaking to establish measurable and reachable goals to improve its environmental performance
- Manage, conserve and minimize the use of natural resources
- Prevent or minimize the production of pollutants
- Raise the awareness of employees about environmental issues
- Ensure the availability of documents regarding its own environmental policy for public scrutiny

Meeting these goals requires giving constant attention and effort to the many planning and control activities, such as: quali:

- Technological updating of the Company's activities as a function of environmental protection
- Control of the raw materials used, giving priority to those with less impact on the environment
- Preliminary evaluation of all new raw materials, activities, plants, company services and verification of the standards required for those already being used
- Routine and systematic control of all the plants and machinery
- Monitoring of internal and external environmental issues
- Management of all operating conditions, including emergency procedures
- Control and selection of supplier companies based on their environment policies and track record
- Routine auditing of activities and programs in progress



Hits: 7461 | Leave a comment