P.O.P. Pitti optical power
Stripes move, sway and cross again and again. P.O.P Pitti Optical Power will be a visual and virtual spectacle that elicits new horizons of perception and perspectives on reality. As the Pitti Immagine shows do, innovatively, season after season. No black and white austerity in Fortezza da Basso but rather a kaleidoscope of full colour patterns to make living interiors playful and hypnotic. All this in a set design conceived and curated by life-styler Sergio Colantuoni.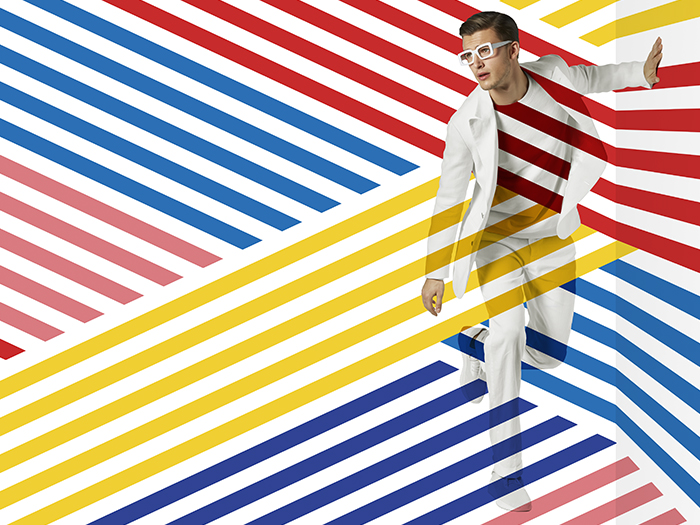 About Sergio Colantuoni:
Sergio Colantuoni is considered lifestyler, for his wide point of view.
He has a long experience in publishing. He started working in 1985 for L'Uomo Vogue and then he continued to work as a freelancer for fashion, design, food with national and international newspapers and magazines.
Currently he is a creative consultant for different fashion and design brands, directing advertising campaigns, art projects, events and retail related activities.
He pays attention to every detail of each step of the project.
He curates it from the beginning to the end. The initial concept, the idea, is developed according to the customer's wishes and they influences the choice of the catering, the music, the lights and graphics. He is also involved in curating books and editorial publications. He works for Io Donna, the weekly magazine of Il Corriere della Sera and signs his blog "Lifestyler a portata di mano" on the web edition of the magazine. He created the photographic cookery book "Il Pranzo ? servito!" published by Baldini Castoldi Dalai. He is the designer for the collection of a men's fashion brand, and he has his own named brand of belts.
The new digital project of Pitti Uomo 94
A masterful combination of direction and motion graphics to the rhythm of Electropop, the new digital art project tied to the advertising campaign of the shows.
Creative concept and production: Lateral Creative Hub.
Motion Graphics: Ditroit.
Direction: Diego Diaz.
Music: Alessandro Branca for Human Touch Music.
The next edition of Pitti Uomo will be from 12th to 15th of June in Florence, Italy.

Hits: 9782 | Leave a comment