Most Stylish Men 2019 winner is Adam Lambert
Winners in Most Stylish Men 2019 are Adam Lambert, Chris Hemsworth and Johnny Depp. Adam Lambert is the top winner for a fourth consecutive year! That proved his impeccable style, talent and popularity.
Johnny Depp kept the top voting positions in February, April and June and Chris Hemsworth was most voted in July and August, but Adam Lambert's fans made him the final winner.
"Adam is a fashion icon. I love that he is not afraid to take risks. He has the beauty and self confidence to carry off many different looks. He is not stuck in a particular style. He is always changing it up. Very fashion forward!", says Vikki Huibregtse, one of his fans.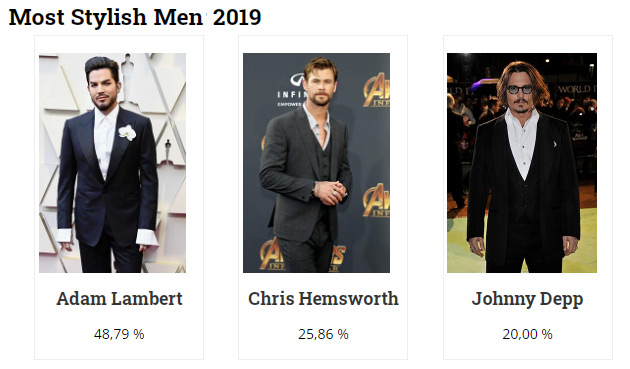 Thanks to all fans that voted and supported their favorites.

Most Stylish Men voting is now open so that you can select your favorites for January, 2020.


Hits: 12277 | Leave a comment