Online Mercedes-Benz Fashion Week Russia extended until April 6 due to record-breaking viewing
More than half a million unique users watched the online shows of Mercedes-Benz Fashion Week Russia and TikTok lectures on the first day of Mercedes-Benz Fashion Week Russia.  On average, 30,000 people watched each video presentation from Moscow. At peak times the number of simultaneous connections exceeded 50,000. Moscow streams of young and famous designers are covered by media from Russia, Italy, the United Kingdom, the USA, India and other countries.
Due to the record number of views of the fashion streams from Moscow, the organizers decided to extend the virtual Fashion Week until April 6. All video presentations of designers' new collections will be looped throughout the day. On the first day, the duration of each video ranged from 1 to 7 minutes. Most of #MBFWRussia participants presented their Fall/Winter 2020-2021 collections.
In the framework of a special project of MBFW Russia and TikTok #СтильнаДому (in english #styleAtHome), workshops were held by creative director of RomaUvarovDesign brand, Roma Uvarov, as well as by stylist and designer Igor Andreev.  More than 80,000 people watched their live streams on TikTok.  New lectures will be held for another three days - until April 7.  Virtual model and blogger Aliona Pole visited Fashion Week in her new digital outfit. Earlier, Aliona created a capsule collection of digital clothing specifically for the Fashion Week attendance.
15 designers have presented their collections as video presentations
Valeria SAAD
This young brand, launched by Valeria SAAD in 2019, started a compact showcase off with a collection centered around the catastrophic impact of the modern industries on the environment. This collection was a self-admitted eco-manifesto for the modern age, utilizing natural fabrics and hues, with a clear preference towards minimalist, clean tailoring.
While mass-production overwhelms factories in Bangladesh and South-East Asia, smaller European brands are making a conscious choice towards downsizing and utilizing locally-sourced materials.
A video presentation featured models, adnrogynous and serious, set against a montage of immense waste management facilities and empty streets of NYC - an all-too-familiar sight these days. The garments were similarly genderless - soft robes of asphalt-colored fabric and beige loose-cut jackets. The subtitles stated that we continue to produce and consume, but that our fast-fashion, more means more approach will certainly not be working for much longer.
BRAND'S VIDEO PRESENTATION AND LOOKBOOK: https://yadi.sk/d/L-EDQS2G7GwRJA
LUTANI
The Saint-Petersburg based LUTANI, also launched last year by Anita Lyutvinskaya, told a story of human vulnerability and human condition. In fact, that's what their new collection was called - VULNERABILITY, shown by Givenchy model Stanislava Izyumova.
LUTANI also sources their wispy, ghostly fabrics locally in St. Petersburg, or imports them from European producers. A hypnotic short movie by Andrey Valentsov showed their new designs through the medium of a ghost story - with the model inhabiting a long-abandoned house and a frozen swimming pool. The garments ranged from ribbon-like crimson evening gowns to several outfits that utilized thermochromic, color-changing fabrics.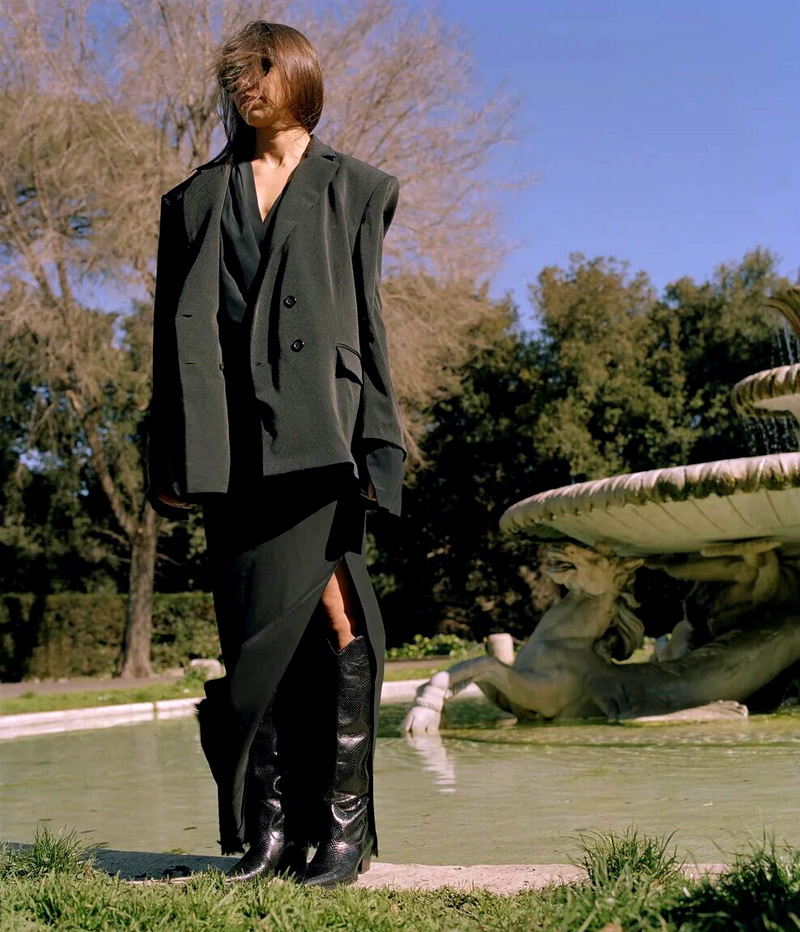 As Stanislava walked through a frozen wintery landscape, a little ghost searching for meaning, the light and futuristic outfits offered a perfect scenery to the emotions familiar to us all at this time - uncertainty and an unyielding desire for a new sincerity and intimacy. Her spectre eventually sank to the bottom of a deep-frozen lake, draped in white silks reminiscent of Alexander McQueen's legendary Kate Moss hologram.
BRAND'S VIDEO PRESENTATION AND LOOKBOOK: https://yadi.sk/d/L-Wi_N-NozuyPA
ASOMATAV
A Georgian brand was up next, named after the ancient Georgian script asomatavruli. In its new SS20 collection this young brand explores and praises the Georgian ingenuity, character and legacy. The creative director of the brand, Natia Gvenetadze, a lawyer and a graduate of Instituto Marangoni Miami and the British Higher School of Art and Design, showed us a tender short campaign film, with models in strict black suits and dresses of pleated fabric, all very reminiscent of traditional Georgian women's fashions. Ostentatiously austere lines of men's cherkesska and delicately womanly qartulis were reflected by Natia Gvenetadze in her new shapes of elegant dresses, jackets, and trousers. The ASOMATAV heroine stands on her grounds as firmly as men and wears cape blouses, which resemble manly cloaks. Their looks are complemented with flared high-waisted front-slit trousers. The highlight of this new collection was ASOMATAV's unique traditional print.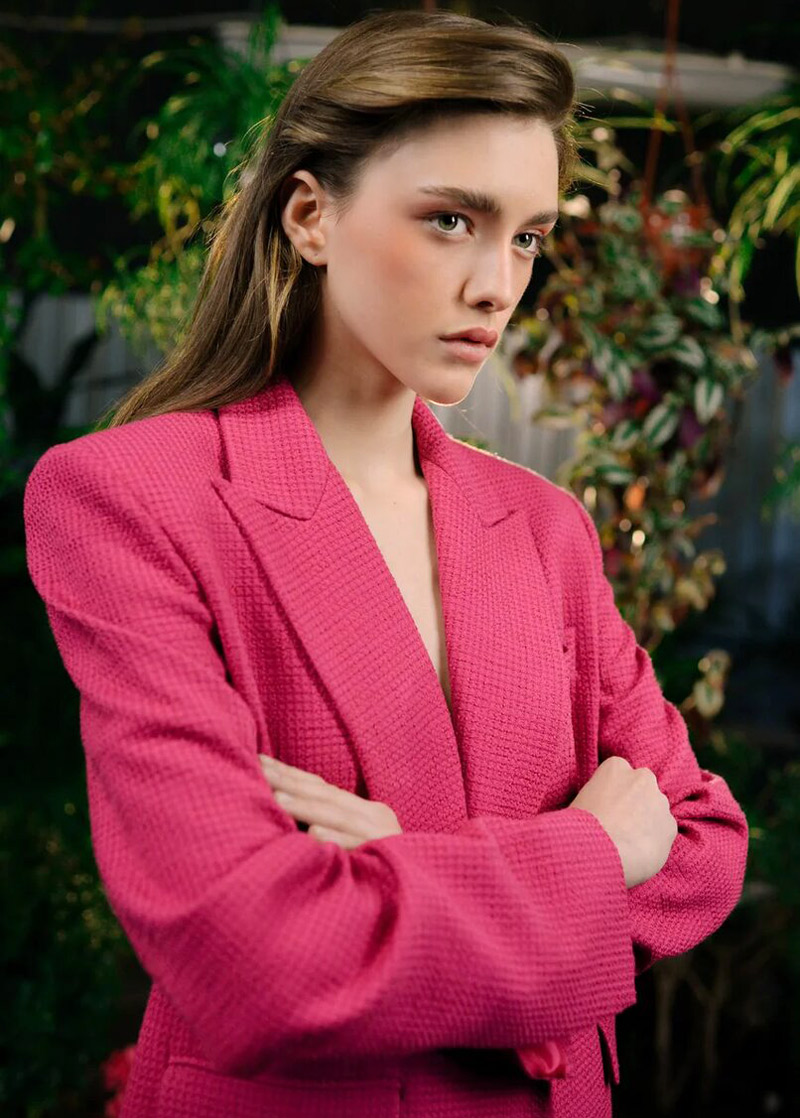 BRAND'S VIDEO PRESENTATION AND LOOKBOOK: https://yadi.sk/d/2DSH3RwmkRYPgw
Vakproject
Brand ideologist and creative powerhouse Lisa Kazbekova, an alumna of the Chelsea School Of Art & Design with a degree in Graphic Design, showed her romantic short movie next. Vakproject brand, first founded in 2015, exhibited a perfectly Parisian blend of classic styles and shapes, yet retaining a traditionally British sensibility.
The new Spring/Summer 2020 was dedicated to challenges, aesthetics, and traditions of creating classic costume patterns. The designer wanted to create a clear and balanced collection, androgynous and minimalistic, where the key object is traditionally a jacket.
Thus, the collection featured jackets and coats of thick, plaid and houndstooth fabrics, mostly associated with the British countryside. Focusing on an artist's depiction of a tasteful nude in the middle of a busy city, the collection featured an assortment of pins, necklaces and other accessories, which suited this sombre tone of gentle isolation well.
BRAND'S VIDEO PRESENTATION AND LOOKBOOK: https://yadi.sk/d/f0wDG3c8ROWlwg
ELENA SOUPROUN
ELENA SOUPROUN brand, started in 1997, made its name through masterful tailoring and the use of vintage fabrics, antique materials and exclusively by-hand embroidery. Suprun herself quotes the 1950's as the main inspiration behind her works, with Dior, Cardin and Jacques Fath ruling the minds and hearts of fashion lovers across Europe.
Her new set of creations is titled "Fly Me To The Moon", and we saw her inspirations flock to the belle epoque, the Russian fashions of the 18th century and the French art of the first half of the 20th century. Masterfully embroidered black jackets and free-flowing black-and-white dresses and coats would well suit a heroine of Chekhov or Turgenev.

Beautiful frills on the sleeves of each dress called to mind the elegance of pre-revolutionary Russia and its countryside life, while elegant little slips of black or cream did send us back to the best days of Chanel and Dior.
The collection rounded up with several little black dresses and eveningwear, all flowy and pleated, or else elegantly embroidered with flowers and leaves. It wasn't all black-and-white though (although that seemed to be the underlying theme of the collection) - Suprun showed an assortment of psychedelic prints reminiscent of the words of such brands as the London's legendary BIBA store and finishing off with a set of evening gowns of deep purple and blood-red, all accessorized with feathered and jewelled collars.
BRAND'S VIDEO PRESENTATION AND LOOKBOOK: https://yadi.sk/d/0jhVlA50gvkGQQ
ophelica
Another younger brand from Moscow, ophelica is the brainchild of Regina Turbina, who started the company in 2019. It became the first Russian brand to officially retail virtual clothing, inspired, as you can probably tell, by Shakespeare's Ophelia and the ideas on how she would fare in the 21st century.
Brand's capsule, composed of nineteen unique digital prints, brought many ideas from the ancient past into the present - and well beyond. Timelines are intertwined within these virtual garments, with symbols pointing us to the inevitability of fate and the flow of time: a spying mirror, a skull, flowers of life, ancient jewelry and coins.
The patterns stayed simple, with silver, black and white arranged in geometric, chess-like patterns. Wide skirts, ribbonned trousers and semi-transparent tops of black tulle created a sort of Alice-in-Wonderland feel to the whole thing.
This unique presentation showed real garments alongside the digital designs, bringing, for the first time, the idea and the result together into a harmony.
BRAND'S VIDEO PRESENTATION AND LOOKBOOK: https://yadi.sk/d/zT8k6d3zBQEJow

/SELFÉTUDE
A collection from a Saint-Petersburg brand by Ekaterina Okhotnikova, a graduate of Milan's DOMUS Academy. The brand concept is based on a combination of minimalism with sophisticated elements and structures, echoing the aesthetics and an eclectic look of a modern woman.
The new collection by Ekaterina Okhotnikova, who started /SELFÉTUDE in 2018, was inspired by abstract impressionist art, while contemplating whether our lived experience can change out value systems throughout our life.
The collection itself includes overcoats and suits with both asymmetric and classical silhouettes in primary colors, dresses and blouses made of plain fabrics, both dense and light, as well as multi-layers overalls featuring decorative elements.
The feminine silhouette is complemented by the somber yet emotional atmosphere through the use of darker hues, as well as the draperies and finely-sewn detailing on the garments.
BRAND'S VIDEO PRESENTATION AND LOOKBOOK: https://yadi.sk/d/G1OIwux3vFov5A
LATARDE
LATARDE is the brand of designer Maria Gudkova, a graduate of the British Higher School of Art and Design. The designer suggests enlivening one's everyday life with bright and elegant clothing, practical for both a workday and for a night at the theater, for an exhibition tour, or for a party with your friends. In Spain, la tarde means an interval from 1 PM till 7 PM, a perfect space in time between the morning and the night, when we feel like changing our strict work suits to something less formal.
Therefore, LATARDE's DNA is a combination of two contrasting styles, combining strict office minimalism and a cocktail dress in a single look, which can make you comfortable and yet would be appropriate anywhere throughout the day. The cool and futuristic campaign video worked well with that concept, with models posing in both casual and workplace situations, and steaming their favorite looks on a clothes rack.
The starting point for this collection was an overall minimalist style, combined with geometric abstract patterning featuring a combination of clear shapes and bright color spots. Shapes and contrasts give the looks a special personality and character, and the garments would well suit in a well-planned wardrobe of a modern lady who hates mundane looks.
BRAND'S VIDEO PRESENTATION AND LOOKBOOK: https://yadi.sk/d/j3k5Rse7OKvQqg
JULIA DALAKIAN
Julia Dalakian is well-known favorite of Russian singers and stars. She has worked in the Russian market for well over 20 years, serving Moscow-based and foreign customers. Twice a year, the brand has been making 2 seasonal collections, introduced at Mercedes-Benz Fashion Week Russia since its very start.
JULIA DALAKIAN brand's new collection MYSTERIOUS NATURE explores senses and minds, trying to perceive modern times through the nature of things and feelings. In creating it, Designer utilized natural fabrics (cashmere, wool, silk), motives from her own line of JULIDA designer fabrics and patterns mimicking flora and fauna.
The collection includes long overcoats that hug feminine shapes and accentuate the rapid pace of modern life. Trouser suits, asymmetric dresses and skirts, blouses with puff sleeves and evening gowns of silky velvet, Art Deco style, create the atmosphere of a mysterious pagan festival. Frilled shawls and kimono-like dresses contrasted with bright, pleated shimmery evening wear, sporting a golden beetle motif. Other designs featured armor-like pleats on the shoulders and cinched waists, complete with golden laurel tiaras.
BRAND'S VIDEO PRESENTATION AND LOOKBOOK: https://yadi.sk/d/0hWFKHaWT30frw
HOUSE OF LEO
HOUSE OF LEO, a young brand from Moscow founded last year, is the baby of Leonid Alexeev, known for his work with unisex garments and his wide range of inspirations. His primary focus, however, is menswear, and his new Fall/Winter 2020-2021 collection is a fond goodbye to one's juvenile ideas of adult life.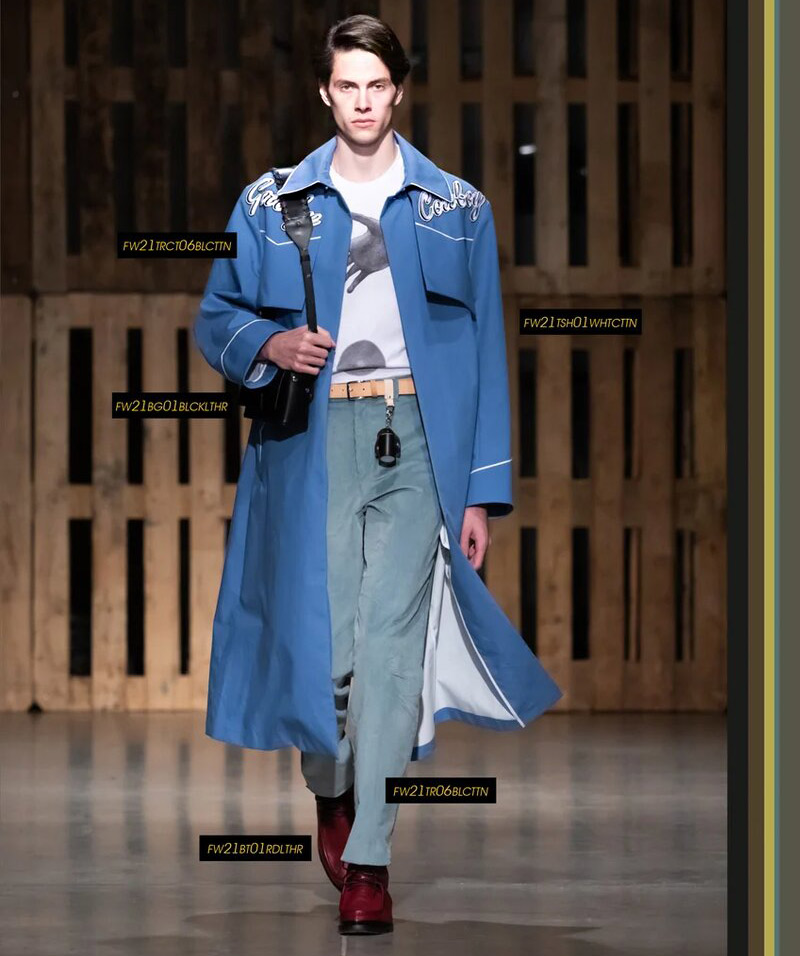 The new collection includes wool suits with a vintage Soviet influence, Vichy-checkered cotton shirts, pecoras made from artificially aged wool, running coats with tapestry prints, preppy college-style sweatshirts, merino wool jerseys, and a wide assortment of graphic designs printed (or, rather, tattooed in a unique way) on cotton bombers, leather handbags and jackets.
BRAND'S VIDEO PRESENTATION AND LOOKBOOK: https://yadi.sk/d/PBvg8aVPee_jAg

WHITE CROW
A popular Moscow brand with a penchant for Japanese aesthetics, WHITE CROW was created in 2013 by Anton Maetny and Natalya Guschina. The designer duo finds ideas and inspiration for their collections in traveling, architecture, art, and any creative objects they meet. Their silhouettes and cuts often resemble origami and architectural forms.

Their new collection strives away from concepts of fashion and veers towards creating a personal style for their customers.

Playing with a wide assortment of contrasting fabrics, Anton and Natalya try to create a tactile experience with every garment. Through this experiment, familiar shapes and forms begin a new life.

The short movie presented by the WHITE CROW team takes place in Istanbul, where East meets West - and shows a futuristic Eastern city populated by cyberpunk hackers, parkour runners and fashionistas of tomorrow.

BRAND'S VIDEO PRESENTATION AND LOOKBOOK: https://yadi.sk/d/N37f4zhpcFBzVg

SL1P
SL1P is a Russian experimental jersey brand founded in 2018 by Vyacheslav Abdenov and Vlad Ivanov. The name refers to the knitting term Slip, standing in English for transferring a stitch from one knitting needle to another.
SL1P brings together the traditions of jersey art, original designs, and contemporary art. Instead of creating the usual seasonal collections, the brand team makes small capsule collections with their chosen like-minded muses: artists, graphic designers, and architects. Each capsule is a limited edition, and moreover, the designers, following the responsible fashion principles, use recycled materials.

Their new collection is dedicated to experiments with jersey fabric. This time, the SL1P team collected a unique assortment of yarn from all over the world – mostly sourced from European and Asian stock shops. For example, the transparent smoky dresses and tops were created from Loro Piana silk and metal yarn, which possesses a memory-shape effect. Their other find was a special cotton and polyamide yarn, which allows knitted products to resemble chainmail. In addition to dresses and branded rectangle-cut vests, this new offering by SL1P includes sweaters, cardigans, tops, and bomber jackets with sport-style sleeves. Most of the garments shown are also unisex.

BRAND'S VIDEO PRESENTATION AND LOOKBOOK: https://yadi.sk/d/2oKjFKRO4SsK_Q

Yana Besfamilnaya
Designer Yana Besfamilnaya, who created her own brand back in 2016, tries to present a different journey with each collection, and loves to mix up eclectic styles. Yana's heroine lives in a constantly changing world. The place, the time period, along with the style and the atmosphere - all is in constant flux.

Her new rose-tinted collection is devoted to dreams and looks accordingly - lollypop-colored trench coats, dresses in a juicy cherry tone, macaroon jackets, marshmallow-hued corsets – all represent the brand's key concept - a transformation. Much like in the brand's other collection, pieces from the Spring capsule resemble a construction kit, which makes it possible to mix and match the garments to bring the boldest fashion fantasies to life. The campaign video itself was similarly playful and cute, with the heroine playing around her home, painting, facetiming friends, drinking, reading books, cooking and even flashing in the window.

BRAND'S VIDEO PRESENTATION AND LOOKBOOK: https://yadi.sk/d/VX3JarPkjlX8CA

REWEARIT
Velina Sukiasyan created REWEARIT last year, inspired by the concept of upcycling. The designer truly believes in responsible consumption, truly needed these days for the planet and the humans inhabiting it. Old things don't have to be thrown away: if they are in good condition, it is easy to give them a new lease of life.

Her new collection was created to demonstrate the importance of environmental protection thanks to individual conscientious attitude. The new garments were made completely through the process of second-hand recycling. One of the most important parts of Sukiasyan's work was to not lose the brand's individual style, since each cut and print has a story behind that had to be reflected to get a completely new and fashionable piece. In shaping these new looks, the designer found inspiration in her recent trips to Armenia and Georgia.

The mesmerizing nature and vividly colored buildings she had captured turned into prints on clothes, whereas textures and varying colors of the stony palette served as inspiration for creating a unique color pattern. During the creation of her short video for this fashion week, she strived to merge the individual looks with the surrounding nature and to demonstrate the vital need for saving the environment that surrounds us - jackets intertwined with tree branches, while wildflowers and lilies filled the pockets for the tragic heroes of this short film.

BRAND'S VIDEO PRESENTATION AND LOOKBOOK: https://yadi.sk/d/Ph9WF0vT5TKrJQ

RED SEPTEMBER
Olga Vasyukova of RED SEPTEMBER started creating menswear and womenswear in 2018. She is a multi-profile designer, with work spanning design, illustration, production, filming, and visual collaborations. The designer is a graduate in Fashion Design from Polimoda. Fall/Winter 2020-2021 collection is the third for the brand. The first two collections were very successful, earning features in international fashion publications (Business of Fashion, Vogue, Dazed and i-D). The short movie Vasyukova presented included French teenagers speaking on their hopes and dreams for 2020 and beyond.

This new collection is the first part of a planned trilogy of meditations on the structures within our societies. As per usual, the collection features fashions for both her and him - the women's segment featured leather jackets and raincoats with overstated shoulder pads, bright dual-colored sheepskin coats, woolen trousers, and jackets with multi-layer draperies, hi-tech windbreakers and bomber jackets, multi-layer dresses and black & white leather pencil skirts. The men's part showcased asymmetric double-colored sweaters, sophisticated tailored trousers with patch pockets, voluminous jean fabric jackets, hi-tech bomber jackets made of several contrasting fabrics, sheepskin jackets, as well as masculine leather jackets and coats.

BRAND'S VIDEO PRESENTATION AND LOOKBOOK: https://yadi.sk/d/78nAbjQvPECwLg

Let us remind you that virtual Mercedes-Benz Fashion Week Russia is taking place on April 4 to 6. Live streams at video.bgfashion.net

DJ GROOVE is responsible for the musical accompaniment of digital #MBFWRussia.

Brands' video presentations and lookbooks at the link below: https://yadi.sk/d/c_JL6brJyCKcbw


Hits: 8774 | Leave a comment