Mercedes-Benz Fashion Week Russia: Intercity experiment and TikTok reality show
The all-new season of Mercedes-Benz Fashion Week (MBFW) Russia came upon as successful experiment with fashion shows from different cities, presented in one online schedule. On October, 19-23, Mercedes-Benz Fashion Week Russia took place at 5 Russian cities at once: Moscow, St. Petersburg (635 km from Moscow), Krasnodar (1,195 km), Sochi (1,360 km) and Yakutsk (4,885 km).
In the capital of Russia, the events were distributed over 5 venues, from historical mansion of Moscow Fashion Museum to giant loft at former textile factory, with anti-COVID protocol implemented. One real-time show was live-streamed from Jakarta (9,325 km from Moscow) in cooperation with Indonesia Fashion Week. All Moscow and remote physical shows were aligned with video presentations from Russia, Argentina, UK, Peru, and USA in one #MBFWRussia digital schedule to be live-streamed over 87 platforms (social networks and media both) in 14 countries, including Be Global Fashion Network.
In total, Mercedes-Benz Fashion Week Russia has reached 10 mln views in 5 days across all platforms, including social networks and media websites, and counting.
Every detail of the Fashion Week process was streamed in TikTok from show venues around Moscow with involvement of the key Russian fashion experts, TikTok creators and social media influencers. The concept was to give online audience a full backstage experience of Mercedes-Benz Fashion Week Russia. The fashion week reality show has generated 2,400 minutes of live streams, showing all the behind-the-scenes and lifting the veil of the organizing process.
ANTI-COVID PROTOCOL FOR PHYSICAL SHOWS
#MBFWRussia has launched an unprecedented safety protocol to physical shows in Moscow, following the official rules, preventing the coronavirus spreading. All shows in other cities were following local anti-coronavirus regulations too.
Despite April 2020, when Moscow was on a lockdown due to COVID-19, and Spring edition of MBFW Russia went fully virtually, October 2020 was scheduled as usual with some exceptions. The fashion week had moved from one mutual venue, that was historical Manege (next to Kremlin and Red Square) for last 8 years, to smaller locations over Moscow in order to reduce the attendance and be able to implement a strict sanitary protocol.
The backstage area of Mercedes-Benz Fashion Week Russia was a free-from-COVID zone. The PCR and antibody tests were mandatory for all creative and technical teams, including designers, models, make-up artists, TikTok presenters, dressers, security, helpers, organizers, etc. There were mobile medical labs organized on the venues in Moscow to make express tests for those who intend to enter a backstage area.
All shows were produced with distancing measures. Masks were absolutely mandatory on all venues, except the models on the runway but all of them were tested previously.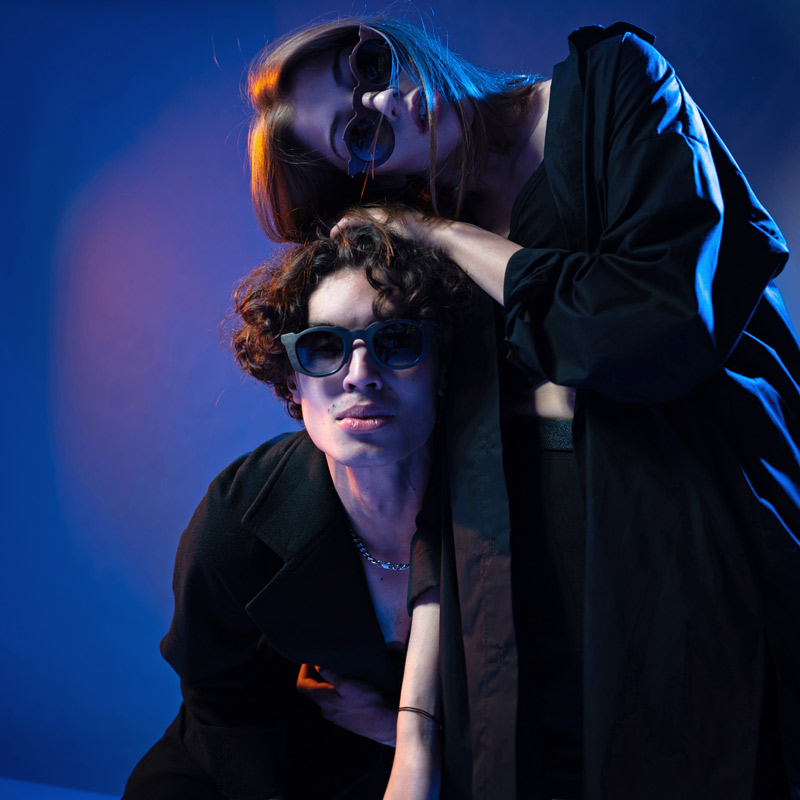 Some fashion week shows, including remote ones, were without guests, just for live-streaming. The preliminary schedule had contained the physical shows in London (UK) and Kazan (Russia) but they were cancelled due to local anti-COVID regulations, making impossible to produce a fashion show even for broadcasting only.
"The safety was our priority. It was very important to produce the fashion week to support local and global talents, but the second wave of coronavirus made this mission quite complicated. I want to thank all the designers and guests who behaved with a great responsibility this season, so there were no excesses during the event. Everyone on the venues was in mask, even me, although I was a volunteer to get Sputnik V – an anti-COVID vaccine, that gave me a high number of specific antibodies", said Alexander Shumsky, the President of Russian Fashion Council and Mercedes-Benz Fashion Week Russia.
LIVE STREAMS FROM ALL OVER RUSSIA
"The shows were live streamed throughout the world. It is nice to know that when you present a collection in St. Petersburg your show is being watched in USA, Italy, and Vietnam at the same time," - Lilia Kisselenko, designer at Kisselenko brand (St. Petersburg).
"Taking part in Mercedes-Benz Fashion Week Russia was a great experience. Live streaming of the shows gave the brands and designers a chance to leave their comfort zone and participate in the Fashion Week regardless of the tricky epidemiological and economic situation. This has been a good and important thing not only for our team, but for the entire region. This was rather challenging, as this was the first time we've ever done that, and there were so many pitfalls in arranging and keeping the live stream going. Tight schedule and communication of our conception over the screen were the things that bothered me most. It wasn't enough just to let the models out to the catwalk – we needed to create a spirit that would tell more about every piece," – Daria Sokolova, Solko brand (Yakutsk).
"All of it made me anxious and worried, first of all, because of the live streaming that didn't leave any place for mistakes. At the same time, the atmosphere of festivity and imaginative inspiration was incredible. Because of everything happening, this format has become successful, and people outside Moscow found it really handy. It enabled them to present their shows to so many viewers without any transportation and accommodation charges involved," – Nadezhda Belousova, ValNa Fashion (Krasnodar).
FASHION WEEK REALITY ON TIKTOK

Mercedes-Benz Fashion Week Russia is the first fashion week in the world to present a reality show on a social media platform. Fashion week reality show on TikTok was running online from 2pm till the last night show continuously, with all shows live-streamed. During the day a number of presenters, including fashion editors and social media influencers, were interviewing designers, make-up artists, guests, models etc., giving a deep insight how the fashion week is being produced.

Totally, a duration of the reality show streamed on TikTok came to 2,400 minutes, and the show was viewed almost 1 mln times in 4 days. Russian adopted version of #TikTokFashionMonth hashtag - #месяцмоды, introduced for the fashion week, has been already viewed 17 mln times. Popular bloggers, influencers, fashion experts, and TikTok creators have been covering the event, talking to designers, guests and the team.

VISIT A VIRTUAL SHOWROOM

A British IT company BrandLab Fashion made a virtual Pop-Up Shop showroom specially for MBFW Russia and its new season. Right from their homes, the followers of the fashion week have a chance to take an interactive 3D tour of the virtual showroom, which for a month is presenting new collections of 16 Russian brands. Any garment or accessory that catches your fancy can be acquired directly from the brands: Amarin, Ola Ola, Maison Esve, Ría Studio, Not for sale, Leather Like Wood, Dzhanelli Jewellery, General VI, Blanc, Yana Besfamilnaya, and others: https://popupshop.ru/en/.  

WHERE TO WATCH IF YOU MISSED IT

VK users had a chance to follow the fashion week online. Records of all the streams from every show at Mercedes-Benz Fashion Week Russia are still available in VK, the major social network of Russia and the CIS.

PARTICIPANTS OF MERCEDES-BENZ FASHION WEEK RUSSIA

74 designers from different countries presented their new collections at the Mercedes-Benz Fashion Week Russia: Chapurin, Elena Souproun, K Titova, Mardo._,Brevno, o5o, Hard by HSE Art and Design School, Ónoma:, Julia Dalakian, Math, Tsiganova & Konyukhov Art, Svarka, Alena Nega, participants of Fashion a la Russe (Olga Kazakova, Valeria Klimovskikh, Nadezhda Belousova), B&D, Lokoto, N.Legenda, Lubovi, Otocyon, Marfa Fedorova, Maison Kaleidoscope, Solko, k∅d, Lutani, Les' by Lesia Paramonova, Yana Besfamilnaya, Sxema, Lena Karnauhova, Maison Esve, Kisselenko, Sergey Sysoev, 1377, Za_Za, Vakproject, Semiletova, Nastya Nekrasova, Kruzhok, Mad Daisy, Gilvichyute, Innominate (Russia); Chain (Argentina); Wignyo X rorokenes, Vivi Zubedi, Defika Hanum X PALA Nusantara Shoes by UJ Yuna, Anggia X Beadstown, Roemah Kebaya Vielga, Thiffa Qaisty, IR & IR, Ina Priyono, Agung Bali Collection X Bahalap, Adhy Alie (Indonesia); Linus Leonardsson x The Guestlist (UK); Annaiss Yucra x Ivaany (Peru); Chelsea Grays (USA).

The title partner of the Fashion Week is Mercedes-Benz. The other Mercedes-Benz Fashion Week Russia partners were Mary Kay® (Official Make-Up Artist), MONÉ PROFESSIONAL (Official Style Artist), Aizel.ru (Official Partner), DHL (Official Logistics Partner), Laska (Official Partner).


Hits: 6556 | Leave a comment