Efficient and Stylish: Tackle Box Units for Optimal Storage Integration
Organizing your fishing gear enhances your overall experience and takes your fishing game to the next level. With many tackle boxes available, bringing a customized unit on board has never been easier.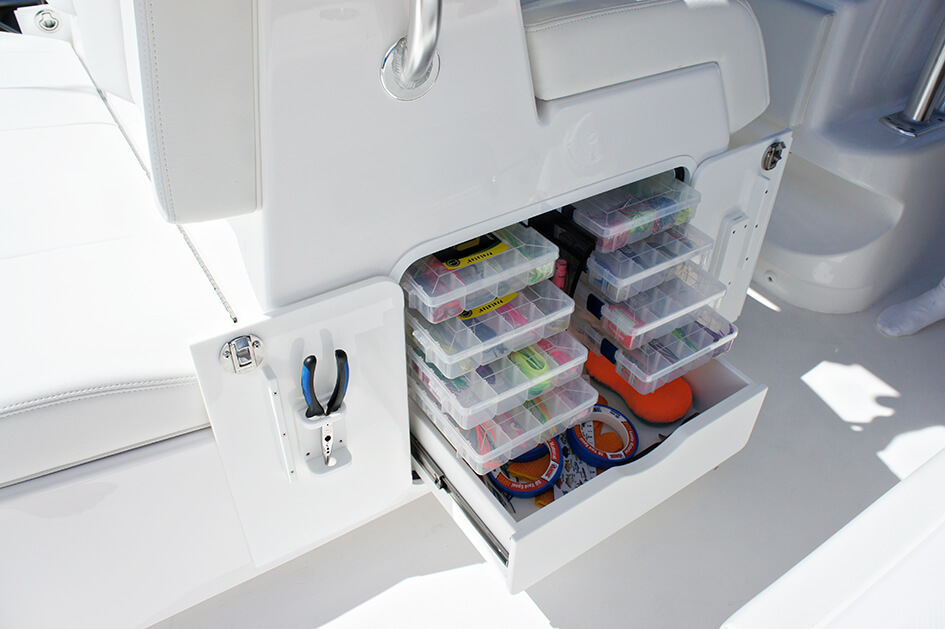 However, to ensure you choose an efficient tackle box that complements your boat, it's essential to understand the different types of tackle boxes. 
Types of Boat Tackle Boxes
Here are several types of boat tackle boxes you should consider:
Tackle Box Bags
The tackle box bags have the storage capacity of a tackle bag but also have an additional portable feature. The bags have a main compartment that holds multiple tackle boxes. They also have additional pockets and compartments outside to cater to additional storage needs. Tackle box bags are ideal for portability as they have handles and shoulder straps for easy carrying.
Tackle Bag Trays
Most tackle boxes come with removable drawers or trays that slide in and out of the tackle for easy access to the stored items. The trays or drawers have multiple compartments in different sizes, enabling you to separate and organize your fishing gear.  
Tackle Box Rack Systems
These tackle boxes are part of the rack system and are molted to the boat. The racks are mounted on the most convenient locations, and the tackle boxes are fitted into the racks securely to prevent sliding or falling, especially when the boat is in motion.  
Tackle Box Inserts
There are tackle boxes with removable inserts that fit perfectly into the box's main compartment. Usually, the inserts have pre-cut slots to create customized storage spaces. The customization aspect makes the tackle box inserts ideal as they cater to your evolving fishing needs. 
Tips for Choosing an Efficient and Stylish Tackle Box Units
Consider these tips to ensure your tackle boxes have a touch of style and function optimally.
Size and Portability
Choose a tackle box according to your fishing needs. If you have limited gear and enjoy short trips, a portable, lightweight tackle box with comfortable handles would be ideal. If you have a wide range of fishing gear, choose a large box with ample storage space. 
Durability
Your tackle box will be constantly exposed to water. Therefore, select a water-resistant one with sealed compartments to keep water and moisture from your fishing gear. Also, ensure the box is made from durable materials to protect your fishing gear from certain elements. Look out for sturdy hinges, reinforced corners, and secure latches.
Style and Aesthetics
Opt for a tackle box that represents your taste, is visually appealing, and complements your other fishing gear. Customized tackle boxes allow you to pick your preferred color, pattern, and design.
Custom Boat Tackle Storage: Enhance your Fishing Experience and Enjoy your Time on the Water
Every boater has different fishing needs. Hence, go for a boat tackle storage that solves your specific problems.

It's crucial to choose a boat tackle box manufacturer capable of delivering a total custom build that fits perfectly in your boat's available space and offers optimum storage solutions.

Click here to browse a collection of tackle box units that fit the bill.


Hits: 2469 | Leave a comment