Diamonds - The best friends of the girls...
* Diamond means unconquerable, indestructible
As you can guess, it's all about diamonds. This well-known, playful song of Marilyn Monroe became a symbol of the eternal striving of women to refinement, richness and luxury. Touching to the magic stone is a unique feeling, the look like goes deep down in one hypnotic and endless beauty. The diamond is considered as a standard of richness, power and prosperity.
The word "diamond" comes from the Greek word "adamas" that means unconquerable, indestructible. The diamond is the hardest natural material in the world. Although its availability is quite limited, it comes from the carbon – one of the most widespread elements in nature. The atoms of the carbon are combined with short, stable connections in three-dimensional system. But the diamonds aren't the same taken alone. There are a number of factors that define the price and the value - transparency, fluorescence, destructibility and way of reflection of the light. Among the transparency stage the diamonds vary from entirely transparent to entirely mat. The most quality and pure diamonds are used for the producing of jewels and the others diamonds with low quality are used mostly in the industry. The stones that after grinding and polishing don't shine are called "death diamonds". After ultra-violet treatment the diamonds eliminate light. It can be blue, violet, sometimes yellow, green or orange.
The most famous diamond fields are in India, Brazil, South Africa and Canada. At the end of 19th century in South Africa burst the so-called "diamond fever". The history shows that the fever is provoked from one of the most famous diamonds "The star of South Africa" that weight 83,5 carats.
The most famous diamonds
"The star of South Africa"
"Hope"
"Cullinan"
Hollywood diamonds
If you aren't sure in the love of your candidate-husband, so a proposal for marriage, accompanied with diamond ring could turn the balance in his interest. The diamonds are the most often presents from and for Hollywood stars, entrepreneurs and generally people that belong to the category "VIP". This maybe is an attempt to be proved the idea that with money can be bought diamonds and respectively – "love".
Brad Pitt personally was invented the model of the wedding rings with diamonds, but unfortunately this wasn't enough to stay together with Jennifer Aniston.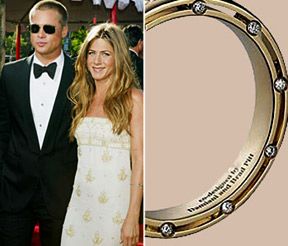 The director Guy Ritchie adds something by himself to the ring with which he proposes marriage to Madonna – platinum hoop just under the ring and three big stones that symbolize their family.

The engagement ring of the young Jessica Simpson is with 4-carat diamond in the shape of pear, together with another two stones, strongly supported with the platinum.

Except for ornament and style, the diamond can be used as one quite successful investment. At first place the diamond is an investment with international recognition, after that it is lasting and traditional investment.

It is found to be that the diamonds can be not only ornaments, but also a good investment. The diamond surely will distinguish you from the others; it will make you unique and stylish. We don't have to mention the additional self-confidence that it will bring you inevitably.

Read more in Fashion Lifestyle Magazine


Hits: 37260 | Leave a comment