Fashion evenings 2009 - elegance, refinement and beauty
* Fashion.bg celebrated its 10th anniversary during the exquisite fashion show in Grand hotel Varna, Bulgaria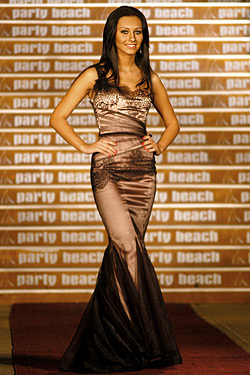 On 13 and 14 June 2009 in Grand hotel Varna, St. Konstantin and Elena triumphed fashion and beauty. The eight edition of one of the biggest fashion events in Bulgaria - "Fashion evenings" gathered those who appreciate beauty on a fashion show, which presented collections of famous Bulgarian designers and fashion houses, as well as importers of quality garments and accessories.
The fashion show was held with the kind stewardship of Grand hotel Varna and with the support of its general director Mr. Ivan Portnih. Official sponsor were the cigarettes Merilyn Slims. Producer of the event is Ekaterina Toneva, Mrs. Bulgaria World Beauty 2007, the organization and performance is made by Amalia Tincheva. The major media partner was the Bulgarian fashion directory Fashion.bg, which celebrated 10 years since its creation.
Face of Fashion evenings 2009 is the young Marina Milcheva, in the defiles took part famous models like Jasmina Toshkova, Elitsa Stoyanova, Svilena Stoyanova (face of Fashion evenings 2007). More than 30 models presented the elegant outfits, jewelry and accessories. In support of the world cause against anorexia, the organizers included in the show a model with a more feminine figure in order to present the garments of larger sizes.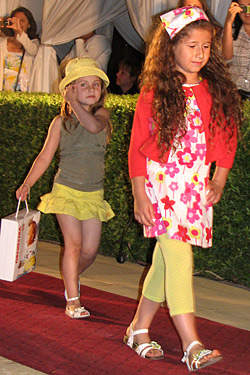 The fashion show started with the French children's clothes Orchestra. Each season the collection of Orchestra includes more than 2 000 models. The clothes can be found in the shops "Bebitta" in Varna and Sofia and in other shops around the country.
During the first evening their collections also presented Aura 64 from Dobrich, the Italian jewelry Nomiation, Delfina, the designer Krasimir Nedialkov, Dram - Varna, boutique Azalia, fashion house Woman Monro with designer Milena Tsoncheva, Magi Lux - Plovdiv with designer Slaveyka Vasileva.
The garments of Aura 64 Dobrich are mainly for women of a middle age. They are elegant and practical, suitable for every day and for cocktails, the main colors are black and white, combined with sequins and ornaments from satin and chiffon. Since 2007 Aura 64 offers a fashion line for future mothers.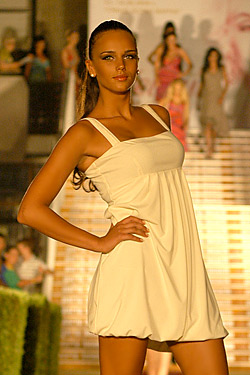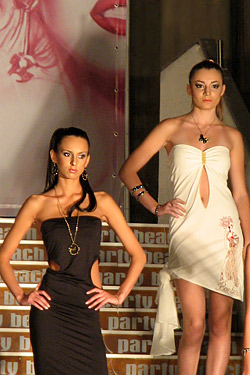 Nomination jewelry presented bracelets, necklaces, rings and earrings. The idea for a fashion accessory capable of expressing one's personality, values, passions, politics, secrets and sensibilities originated with Paolo Gensini in the small town of Sesto Fiorentino, near Florence Italy. Intrigued by the customizable aspect of traditional charm bracelets, Gensini devised a modular or 'composable' bracelet comprised of a series of links. Connected by a spring-loaded mechanism, each segment could be filled (and replaced), one by one, with a different decorative design. Fashioned out of high quality stainless steel, the pieces were guaranteed never to tarnish or fade. Gensini christened his new creation 'Nomination', from the Latin term meaning "giving someone an appropriate name".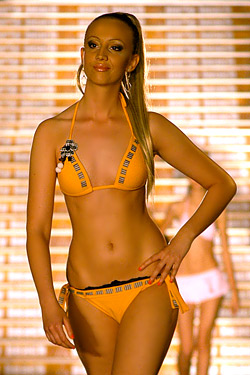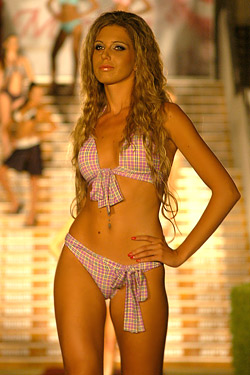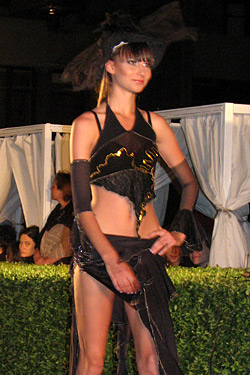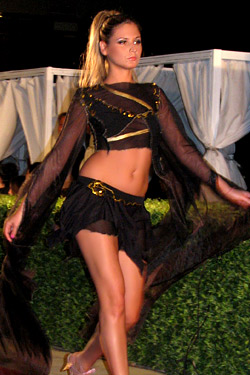 The models had very attractive hair styles, created jointly by the team of Extend and fashion salons "Nushi". Extend is an official importer of hair extensions of the world brand Hairaisers. Hair extensions are from 100% natural hair, easy to work with and proving natural look of hair.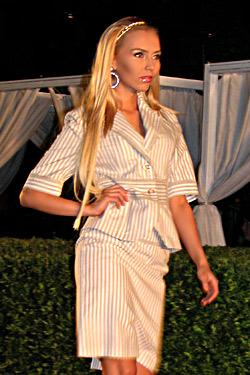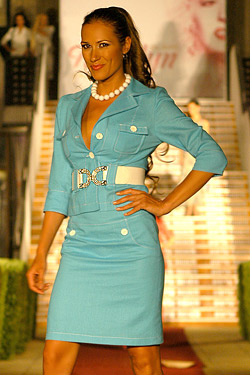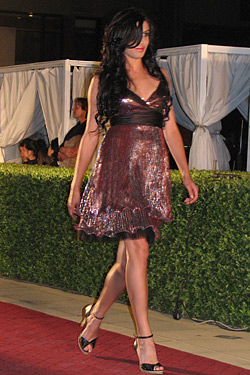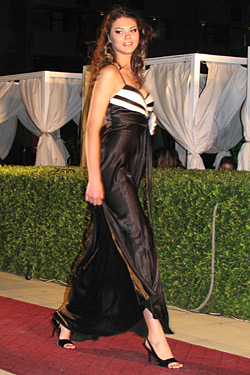 The designer Milena Tsoncheva from boutique Woman Monro made a special sport-elegant collection for Fashion evenings with very sexy silhouettes.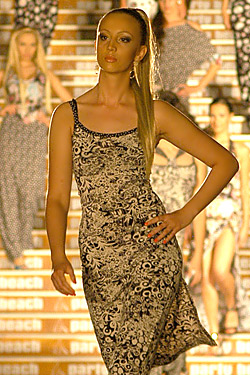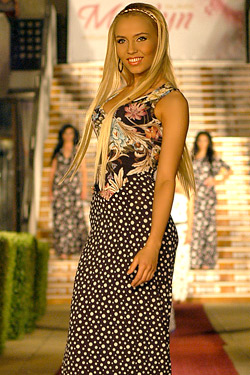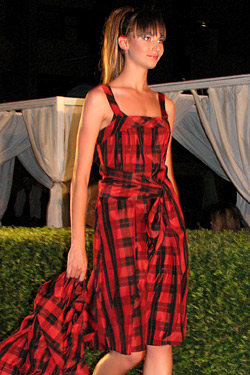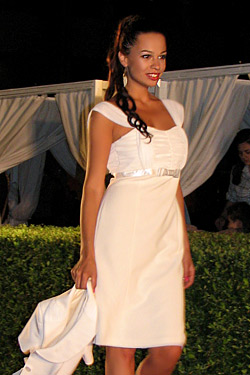 The first evening ended with the wedding collection Butterfly of Holiday Sona with designer Sonia Angatian.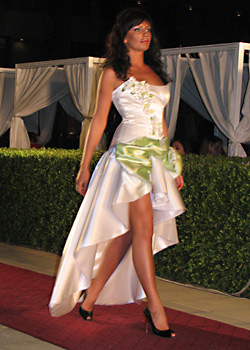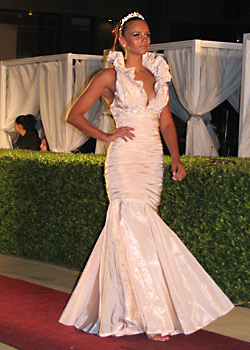 SoledoArts presented bio t-shirts from organic cotton of "Earth positive". The products are Soil Association licensed, made of 100% organic cotton, have Full traceability, Equitable trading and ethical manufacturing audit, Innovative product design, Sustainable production, 90% reduced carbon footprint, Pioneering life cycle foot printing research, Exceptional quality and design.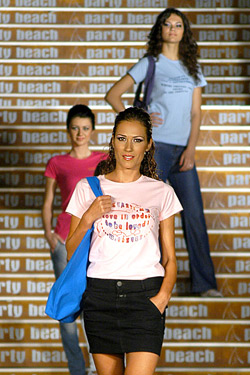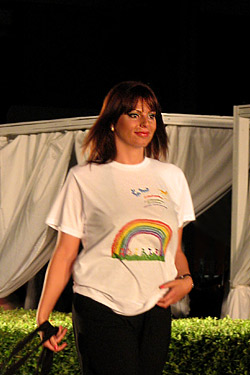 The Spring-Summer line of Flirt lingerie is like a romantic source of sweet emotions and mood. The colours are in the shades of pink, blue, violet and white.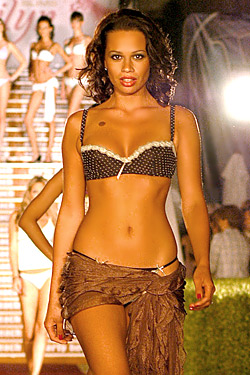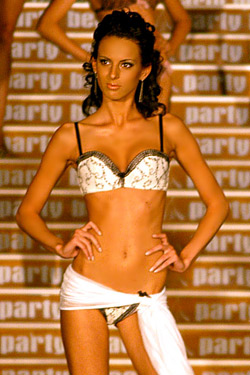 Her formal dresses presented a new name in Bulgarian fashion designer Julia Jivkova. She is very romantic and stakes on individual style and exceptional quality! She creates the dresses herself with a lot of love and patience. She decorated the clothes with a lot of hand-sewn stones and sequins.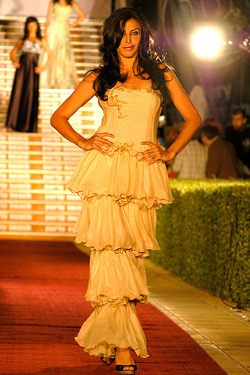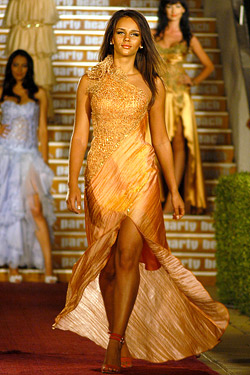 The brand Miro, bearer of a Golden Needle award from the Academy of fashion, created a special collection Merilin for the Merilin Slims cigarettes and presented a part of it during Fashion evenings 2009.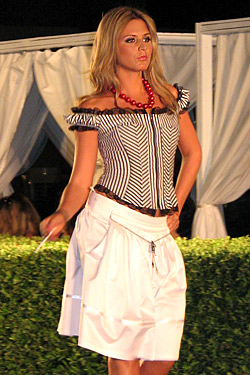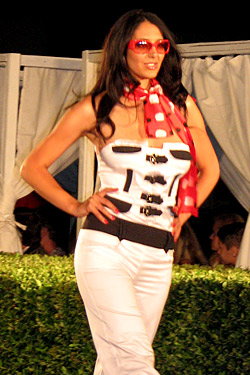 Fashion evenings ended with the collection of formal boutique dresses of Atelier Simon with designer Gergana Simeonova.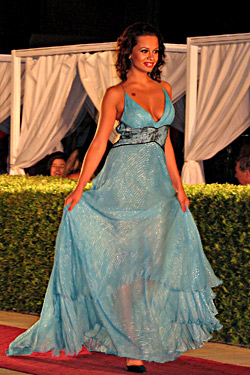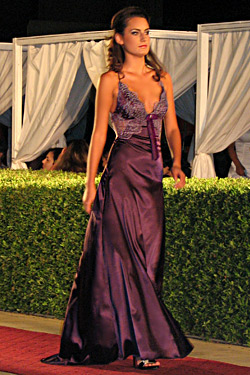 At the end of the evening a tasty cake with 10 fireworks celebrated the 10th birthday of the Bulgarian fashion directory Fashion.bg.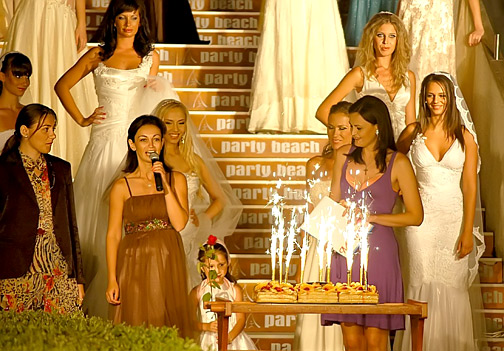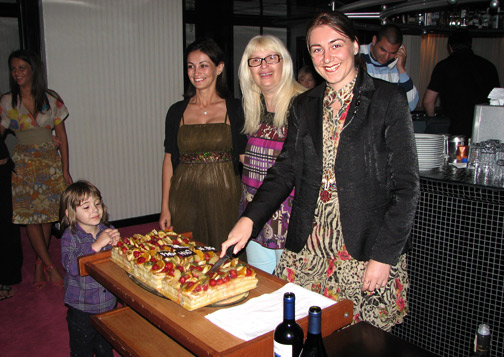 Photos:

1. The face of Fashion evenings 2009 Marina Milcheva in a dress of Atelier Simon
2. - 3. Models of the French childrens' clothes Orchestra
4. Model of Aura 64 - Dobrich
5. Models of the Italian jewelry Nomination
6. - 7. Models of Delfina swimwear
8. - 9. Models of the designer Krasimir Nedialkov
10. - 11. Models of Dram - Varna
12. - 13. Models of formal dresses of boutique Azalia
14. - 15. Models of fashion house Woman Monro
16. - 17. Models of Magi Lux - Plovdiv
18. - 19. Models from the wedding collection "Butterfly" of Holiday Sona
20. - 21. Bio t-shirts from organic cotton of "Earth positive"
22. - 23. Models of Flirt lingerie
24. - 25. Formal dresses of designer Julia Jivkova
26. - 27. Models of Miro, collection Merilin for Merilin Slims cigarettes
28. - 29. Formal boutique dresses of Atelier Simon with designer Gergana Simeonova
30. Silvia Kabaivanova, creator and owner of the Bulgarian fashion directory Fashion.bg, Ekaterina Toneva - producer of Fashion evenings and Toni Raponska in front of the cake for the birthday of Fashion.bg
31. Ekaterina Toneva, Amalia Tincheva and Silvia Kabaivanova
Photos © Fashion.bg and Fashion evenings 2009


Hits: 29116 | Leave a comment