Tag: Fashion.bg
Week accents
Between 27 to 29 October 2010 everyone can visit the counter of Fashion.bg during Webit in the National Palace of Culture (NDK), Sofia.

Webit Expo & Conferences is the biggest event in Central and East Europa and one of the most considerable event for internet business and digital marketing.

If you want to know more about Fashion.bg we have the pleasure of inviting you to visit us on the Webit Expo. Welcome!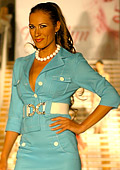 Fashion shows
On 13 and 14 June 2009 in Grand hotel Varna, St. Konstantin and Elena thiumphed fashion and beauty. The eight edition of one of the biggest fashion events in Bulgaria - "Fashion evenings" gathered those who appreciate beauty on a fashion show, which presented collections of famous Bulgarian designers and fashion houses, as well as importers of quality garments and accessories.

The fashion show was held with the kind stewardship of Grand hotel Varna and with the support of its general director Mr. Ivan Portnih. Official sponsor were the cigarettes Merilyn Slims. Producer of the event is Ekaterina Toneva, Mrs. Bulgaria World Beauty 2007, the organization and performance is made by Amalia Tincheva. The major media partner was the Bulgarian fashion directory Fashion.bg, which celebrated 10 years since its creation.