Supermodel Karen Mulder has been arrested for making "threatening" phone calls to a plastic surgeon
The 39-year-old star was questioned at a Paris police station after calling the medic and reportedly demanding for a previous operation to be reversed.
A detective said: "She was screaming and shouting about the operation and became extremely threatening. There were repeated calls to the female surgeon who was extremely scared. The suspect is being interviewed."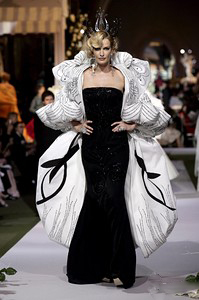 Karen was arrested at about 10am yesterday (30.06.09) and taken to a station in the fashion district of the French capital city.

Another police source has claimed the model had been "stalking and making repeated violent telephone threats" to the surgeon.

The source added: "Miss Mulder was accompanied to a police station in Paris after a complaint was made against her.

"She is being interviewed by detectives and is expected to be released on bail.

"Her phone records are being checked. It is not yet known if any charges will be brought."

Karen made her name in the 80s and 90s, and was paid £10,000 for a day's work at one point.

She gave up modeling in 1998 after saying she could no longer bear to be photographed.

In 2001, she claimed politicians and policemen had used her and others in her profession as sex slaves. She also falsely alleged she had been raped by Monaco's Prince Albert.

She had depression and received treatment at a psychiatric hospital, then explained her problems were a result of an addiction to drugs when she was a model.

In 2002, she took an overdose of sleeping pills and was left in a coma.

She appeared on the catwalk in 2007 at a Christian Dior show alongside Naomi Campbell, Linda Evangelista, Stella Tennant and Helena Christensen.


Hits: 10780 | Leave a comment