Giorgio Armani looked to the future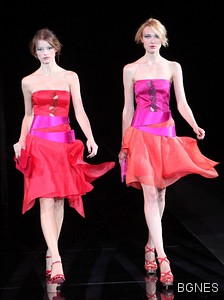 Giorgio Armani looked to the future and explored the world of 'plastic fantastic' in his collection Emporio Armani at Milan Fashion Week.
Swimsuits and bikinis were bedecked with Plexiglass brooches and necklaces as bright as molten lava. Sandals featured crimson Perspex heels and ankle-straps. Short, party dresses in Vesuvian shades of bright orange and fuschia, were cinched with shiny, shocking-pink, patent-leather belts, reported the site telegraph.co.uk

As in the main line collection, Emporio Armani offered a modern, sculpted silhouette for Spring-Summer 2010. The models were with bell-shape and draped skirts above the knee, worn with short, minis, 'cycle shorts' or gathered bloomers.
The bright colours were inspired by the bougainvillea, oleander and ranuncula flowers in the gardens on the southern coast of Italy. Some models had also floral prints and multi-coloured stripes. As a contrast to the hot, sun-drenched palette, there were monochrome polka-dots and stripes to match the black-and-white catwalk, and urban shades of grey.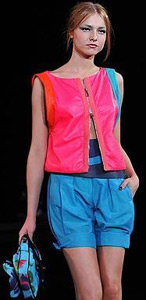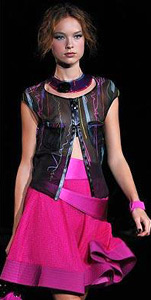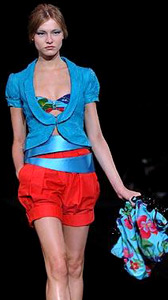 Hits: 11477 | Leave a comment