The best of Spanish Fashion at Cibeles Madrid Fashion Week
* This edition, which lasts for 6 days, involves 51 designers in a structured calendar of 43 fashion shows
Fashion and creation are, once again, the main themes of a new edition of CIBELES MADRID FASHION, the great platform for the promotion and dissemination of design in Spain, organised by IFEMA, which is celebrating its fifty-first edition from 18 to 23 February at Feria de Madrid.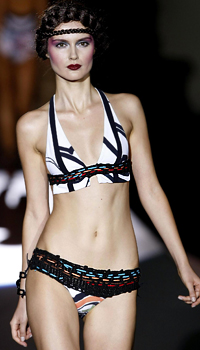 On this occasion, the main showcase for Spanish creation involves 51 designers who, with their diverse stylistic proposals, will evidence the creative heterogeneousness of fashion in our country. They will be joined by almost 30 young designers who will be showing their collections in the EL EGO showroom, a space with direct retail sales for the whole time that CIBELES MADRID FASHION WEEK is on.
This edition of CIBELES, which has a calendar structured into 43 fashion shows, will include diverse new features that will contribute to ratifying this event as the best space for the promotion of Spanish fashion and its most high-profile benchmark within and beyond our borders. Thus, this edition - which has increased the number of days it is on from 5 to 6 - features the noteworthy return to the stage of Hall 14.1 of Feria de Madrid of Davidelfín and Jesús del Pozo, in addition to the incorporation of the young Catalan creator Teresa Helbig and also the return to the official calendar of fashion shows that are staged at Feria de Madrid of two renowned names on the current Spanish fashion scene: Ion Fiz and María Escoté.

Helbig, with a track record of more than ten years in the fashion world, where she has managed to successfully establish her demi-couture proposal of jewel-dresses, is making her debut at CIBELES showing creations with a well-defined, fresh and ultra-feminine style, where she combines sophistication and elegance. A fashion proposal which, as she herself defines it, answers to a feminine, glamorous, signature design.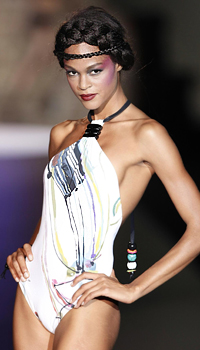 For his part, the Basque fashion designer Ion Fiz, considered to be one of the enfants terribles of Spanish fashion, whose designs dress a high-spirited woman with a sophisticated and feminine attitude, returns to the fashion shows that are held at Feria de Madrid following several editions in which he showed his collections at off Cibeles. The same thing has happened with the creator María Escoté who, following an edition in which she showed her collection within the framework of off cibeles, will hit the catwalk at Feria de Madrid on 23 February. Escoté, who showed her first collection at EL EGO in January 2007, is a tireless, versatile young woman with overwhelming talent. She is the protagonist of daring, cutting-edge proposals that have colour as one of their inseparable allies. In her designs, she is firmly committed to a feminine, independent woman.

Another noteworthy new feature of this edition, at which the 2010/2011 Autumn-Winter collections are shown, is CIBELES' initiative to give greater prominence to young creators and their fashion proposals. To this end, the event has decided to dedicate the first day of fashion shows in its entirety to budding EL EGO designers. In this way, on 18 February, five double fashion shows will be held, where 10 of the best new talents of Spanish design will be showing their collections. Out of all the participants, six will be doing so for the first time, according to the rotation system established by EL EGO which, at each edition, offers us the opportunity to discover the collections of new Spanish fashion values, together with the participants from previous events.

Photos:Models, wearing creations by Dolores Cortes for her Spring/Summer 2010 collection, presented during the 50th Cibeles Madrid Fashion Week, at the IFEMA exhibition site, in Madrid, Spain, 22 September 2009. EPA/ZIPI


Hits: 35578 | Leave a comment