United Nude created shoes, inspired by the Lady Gaga Fame campaign
The shoe retailer United Nude created a special model of shoes, inspired by the ad campaign where Lady Gaga is presented as naked colossus with an army of tiny good looking menfolk scaling her body.

The shoes have 12 inch high heels. They are available for purchase at the United Nude flagship stores in Paris, London and Amsterdam.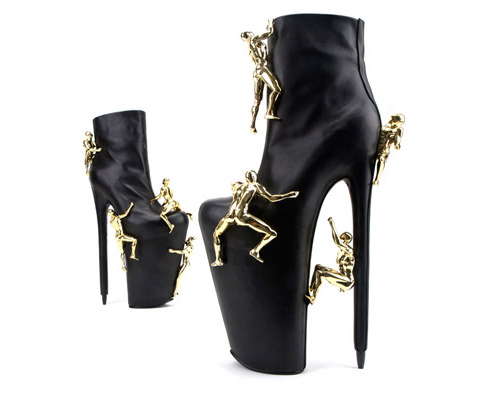 Rem D. Koolhaas, Creative Director, United Nude about this special mission:

"We were invited to make a shoe for Lady Gaga's new FAME perfume launch. Since we are fans, we thought we'd give it a try. They wanted the shoes to be as high as possible, so that's what they got. We came up with a few concepts, one which was inspired by her own FAME campaign where she's a naked giant and people are climbing on her. In the case of the shoes, we went for climbing gold men, and yes they are nude, United Nude."


Hits: 12408 | Leave a comment