London Collections: Men - Spring/Summer 2015
TOPMAN and Fashion East's leading designer support scheme MAN returns to London Collections Men in June 2014 - 15th to 17th to showcase the most exciting new menswear talent. Established in 2005, MAN continues to champion and launch the brightest emerging designers in an unmissable group catwalk show.
London Collections: Men emphasises both the creative and commercial importance of British brands and emerging talent as well as the rich cultural landscape that contributes to the inspiration and success of this sector. All events on the schedule are designed to showcase the breadth of British fashion talent, from the world's most innovative emerging talents to global menswear brands and Savile Row tailors.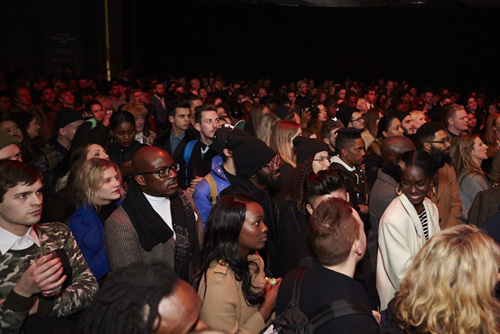 The brands and designers you can see are: A. Sauvage, Agi & Sam, Alan Taylor, Alex Mattsson, Alex Mullins, Alexander McQueen (Men's), Alice Made This, Angelo Van Mol, Astrid Andersen, Baartmans and Siegel, Barbour X White Mountaineering, Blood Brother, Bobby Abley, Burberry Prorsum (Men's), Campbell Cole, Casely-Hayford, Caterina Belluardo, Chester Barrie, Christopher Kane (Men's), Christopher Raeburn, Christopher Shannon, COMMON, Common People, Craig Green, Crombie, Diego Vanassibara, DKNY MEN, Dom Reilly, Domingo Rodriguez, Duchamp, dunhill, E. Tautz, Ede & Ravenscroft, Eye Respect, Fashion East Men's Presentations, FINLAY & CO., Frescobol Carioca, Gieves & Hawkes, Gloverall, Griffin, Hackett London, Hardy Amies, Hentsch Man, huntergather, J.W. Anderson (Men's), Jae Wan Park, James Long, Jane Carr Homme, Jermyn Street, St James's Showcase, Jimmy Choo, John Lobb, John Smedley, Jonathan Saunders (Men's), Joseph (Men's), Katie Eary, KAUSHAL NIRAULA, Kay Kwok, Kent and Curwen, Kit Neale, KTZ, LaurenceAirline, Lee Roach, Liam Hodges, Lou Dalton, Louis Leeman Paris, Lyle & Scott, Maharishi, Make Your Odyssey, MAN, Margaret Howell (Men's), Marwood, Massimo Casagrande, Matthew Miller, Monta Heritage, Moschino, Mr Hare, Mr Start, Nasir Mazhar (Men's) ,Natural Selection, Nicholas Kirkwood (Men's), Nicomede Talavera, Nilplug, Northern Cobbler, ?kun, Oliver Spencer, Orlebar Brown, palmer//harding, Paul Costelloe Man, Paul Smith (Men's), Peir Wu, Phidel, Pringle of Scotland (Men's), Rains, Richard James, Richard Nicoll (Men's), Roxanne, Farahmand, SANKUANZ Presented by GQ CHINA, senhor PRUD?NCIO, Sibling (Men's), SMITH-WYKES, Smyth & Gibson, Solange Azagury-Partridge, TD Tom Davies, The House Of Nines, Tiger of Sweden, Tigran Avetisyan, TOBEFRANK, TOM FORD (Men's), Tom Ryling, Topman Design Turnbull & Asser, U Clothing, Uniform Wares, Universal Works, YMC, Xander Zhou, Vinti Andrews.

More information: londoncollections.co.uk


Hits: 8060 | Leave a comment