The young collection of "Rila style": Green light of the romantic elements
In Sofia especially for fashion journalists was organized the premiere of the new youth line of the famous European manufacturer of women's clothing Rila Style (winner of three "Golden needles" of the Academy of fashion) - RILA STYLE YOUNG COLLECTION. Its European presentation will take place in Paris in the form of a self-dependent review in September 2002. The line of the clothes is clean with unobtrusive romantic elements. The fabrics are mainly natural, its selection is made among the leading European manufacturers of textiles.

What is the colour concept in the young collection of Rila Style ? The pastel shades of pink predominate. The colour schemes in beige, blue and brown are also hot. Especially strong accent is set on the quality of make of the apparel and the quality of the fabrics. The manager of the fashion house Ms. Hilda Savcheva and the designer of the new line - the young Lora Gorbatiuk honestly believe, that the preciseness of production and the guarantee on the fabrics will give them a serious lead and will present the company with dignity among the leading fashion houses in Western Europe, and all over the world.
Photographs: The premiere models of RILA STYLE YOUNG COLLECTION.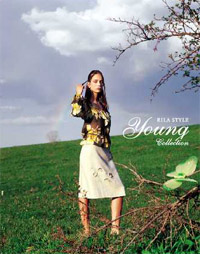 Photo: Fashion house "Rila Style"

© Lubomir Stoykov
All rights reserved!


Hits: 10539 | Leave a comment