Jana Jekova robbed by her colleague?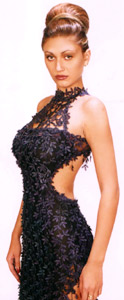 * Alexander Georgiev, who lives in Vienna wins haute couture awards with a dress of the famous Bulgarian designer?
On 21 October 2003 in the Fashion House of the well-known Bulgarian designer Jana Jekova was carried out a press conference in connection with her ascertainment that a design of her has won an award for higher fashion in Vienna under somebody else's authorship.
The representatives of the mass media were acquainted with abundant photo and factual material that proved unequivocally that the awarded dress is a part of the designer's autumn-winter 2000/2001 collection (i.e., created before 3 years).
It became clear, that the awarded in Vienna designer, namely Alexander Georgiev, used to have contacts of many years' duration with Jana Jekova, had at his disposal her designs, including the awarded dress (asymmetrical, black, cocktail-party kind, made out of tulle and lace).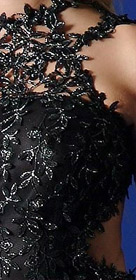 Mrs. Jekova, who is a double winner of the most prestigious Bulgarian Fashion Academy award for fashion design – the "Golden Needle", stated her categorical intention to do whatever is possible to defend her copyright and to inform all institutions concerned (including the main organizer of the Vienna competition – Mode Forum Wien), in order to have the truth triumphing.
At the press conference was made a demonstration of the unique technique employed in the manual make of such clothes; the original design of the dress was shown; presented were the negatives and photos of the same design, made by the fashion photographer Georgi Donchev on 26 November 2000, as well as a video-record of the whole collection review, on the air in the broadcast "A cup of coffee with Gala" at the end of 2000.
Associate Professor Dr. Lyubomir Stoikov guided the press conference. Among the present were also Mrs. Donka Ganeva – Chairman of the Fashion Academy, the legal adviser of Jana Jekova – Mrs. Tsvetana Choukleva, as well as many journalists from the leading Bulgarian electronic and printed media.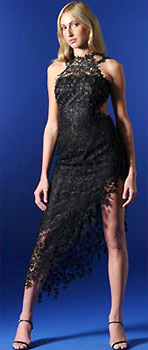 Please find enclosed photos of the original design of Jana Jekova, as well as of the awarded design in October 2003 at Vienna, presented from the name of Alexander Georgiev.

Photos:

1. The design of Jana Jekova
Photo: Georgi Donchev

2. The design of Jana Jekova
Photo: Georgi Donchev

3. The design of Jana Jekova
Photo: Georgi Donchev

4. The awarded design
Photo: Mode Forum - Wien

5. The awarded design
Photo: Mode Forum – Wien

© Lubomir Stoykov
All rights reserved!


Hits: 9662 | Leave a comment