Selected from Fashion fiesta Albena 2005
* First and second day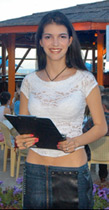 After the end of the show the charming Iva Sofianska asked everyone to go to the karaoke bar, where they showed their singing capabilities. The choreographer Martin Petkov and the model Vladi were singing before everyone.
The second day started with the collections for summer 2005 of "Maxli", "Kia intim", "Kwiat+" and "Lady Sofia".
Petia Manikatova and Miss Bulgaria Raina Naldjieva opened the show with the collection of fashion house "City Fashion". The swimsuits were in the style of the newest world fashion trends for summer 2005. Very hot are the printed fabrics "comics" type, hawaiian flowers etc. The fabrics are decorated with metal accessories, prints and inscriptions.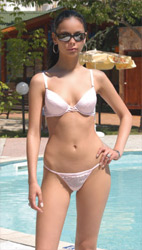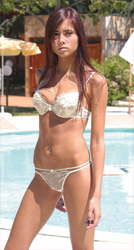 In the same sexy style was the underwear presented by "Kia intim".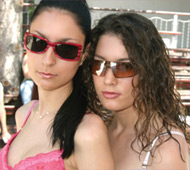 The first Bulgarian brand for glasses "Kwiat+" was ordered in an American Optical factory, where well-known glasses are made. Collection 2005 of "Kwiat+" is filled with luxury, ellegance and natural identity.
"Lady Sofia" is an approved brand for stockings and pantyhose on the Bulgarian market. It has 75 years history and is a synonim of quality.
The evening show was near the sea shore where their collections presented fashion house "Daphne", "Karina" and "Irida". The scenery was like a botanical garden with a lot of palms, roses and pine-trees.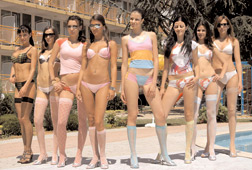 Fashion house "Daphne" with designer Dafina Manukyan is famous not only on the Bulgarian, but also on the foreign fashion podium with its shows in Moskow and Prague.
Daphne was also among the brands that presented Bulgaria in a special broadcast on Fashion TV.
In Albena the designer presented a part of its latest collection. The colours were peach, pink, lemon yellow, cinnamon and green.
"Dapne" - be a woman and show it with your clothes!
"Karina" has a 40-years history in manufacturing men's shirts. The company moto is "Tradition and style". Since 2001 "Karina" has a quality certificate ISО9001.
"Karina" presented a collection, filled with summer mood, romance and sensuality. A rich pallette of bright colours and fashionable designs in a style, suitable for all ages. Designer Larisa Sabeva.
The shirts with the brand name "Karina" offer men the opportunity to be ellegant all day - at his work, during leisure time, on a date or an official dinner.
Be different with Karina's shirts!

At Irida's fashion show the models marched like priestesses and fairies dressed in white like innocence, green like spring, yellow like autumn, fiery, blue like sky, red like wine, rainbow after rain.

1. Iva Sofianska
2. Model of "City Fashion"
3. and 4. Models of "Kia intim"
5. Models of glasses of the first Bulgarian brand "Kwiat+"
6. Pantyhose "Lady Sofia"
7. Model of fashion house "Daphne"
8. Model from the collection of "Karina"
9. Model from the collection of "Irida"



Hits: 106016 | Leave a comment