Coiffure Beauty Magazine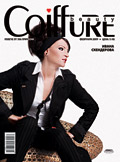 Coiffure Beauty Magazine is a luxurious magazine issued every month. The Magazine targets the professionals in the hairdressing branch and presents articles and information on variety of popular style topics like hair and health, cosmetic products for the hair and sections of the Magazine include information about seminars, workshops and various hair events. We also have dedicated part of the magazine to cosmetics, fashion, spa, and lifestyle. We also publish information on new developments in the field of cosmetics as well as the latest trends in styling and hairdressing and are privilaged to work with some of the best hairstylists in the world and in Bulgaria.
Coiffure Beauty Magazine is distributed throughout Bulgaria and reaches hundreds of the Beauty and Hair Salons as well as loyal readers with diverse background totaling at about 10 000 readers per month. On our covers we feature only exclusive celebreties and our magazine is advertised in number of different media.
We offer you an exclusive price for advertisement that will make the presentation of your lable and/or products smoother and will serve your purposes.
Coiffure Beauty Magazine is divided in three main sections – Salon Coiffure, Beauty and Health, and Album
Salon Coiffure
Retro – snapshots from the past
Basics for the hair – hairstyles, lessons step by step, different colloring and cutting tehniques
GogoART – the famoust Bulgarian hairstylist Grigorii Kiulev-Gogo presents a hairstyle and explains it step by step
Star mirror – a celebrity in the focus of our magazine or a leading world hairstylist and his latest collection.
Coiffure Guest – the face from the cover of the magazine presented in a exclusive interview
For your hair with love – advices and directions how to care for your hair.
Beauty and health
news and events from the world of fashion – current information about tendencies, health tips, interviews with popular doctors, current make up trends, and a lot of beauty news.
Album
More than 100 (one hundred) hairstyles from leading Bulgarian Hair and Beauty Salons.
Website: //www.coiffure-beauty.com
Advertisment & PR: reklama@coiffure-beauty.com
More about hair care
Hair Care - We hope to provide all the necessary information about hair care.
Hits: 26582 | Leave a comment