Urban style obsesses sports fashion
* Milka Aleksandrova – Buchi with her new Bapa Sport Collection
For the first time sports fashion company Bapa Sport invites a Bulgarian fashion designer for working out an elegant fashion line aimed at refreshing the company style.
Bapa Sport turned its attention to Milka Aleksandrova – Buchi who is a bearer of many nominations for "Zlatna igla" (Golden needle) awards of Bulgarian Fashion Academy.
She presented her newest collection for Bapa Sport on February, 15th in the Central Military Club – Sofia.
The new collection inspired by the urban culture, includes mostly suits – coats, skirts, trousers, light overcoats. All of them are designed in an elegant style. Materials are squashed with hologram effects which gives slightly lax taste of the clothes. The silhouette is taken in the waist and definitely feminine.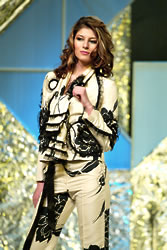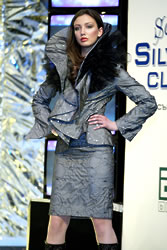 Trousers are made by linen and bring the classic-style taste. The sports ones have "cigarette" type style. Skirts are frilly and designed by materials in gradating colours.
Milka Aleksandrova has put the accent on the faded Sahara colours: beige, white, dark brown which gradate through fresh green to the final nuance of so topical at the moment lilac colours.
The flowery accessories and jewellery used in the collection give a hint about the boutique attitude to the clothes inherent for Milka Aleksandrova – Buchi.

"This is my compliment to the ladies who will prefer Bapa Sport clothes", says Milka Aleksandrova and also add the following: "I would give an advise to every woman and mostly to the future school leavers – to not escape from themselves! Let they ask themselves a question – what would make them feel elegant and pretty? I will wish them also – let they like themselves once again when they go years back and look at their photo albums!"


Hits: 5495 | Leave a comment