Tag: Albena Aleksandrova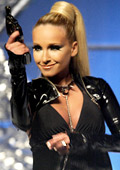 Competitions & awards
Albena Aleksandrova won for the 3rd time Golden needle prize awarded by the Bulgarian Fashion Academy.

This was the conclusion when the direct electronic voting of the 36 jury members was closed.

The other winners are:

"Zebra" - for the fashion house of the year; Angel Tsvetanov – for the fashion photographer of the year; Kiril Chalakov – for the make-up of the year and the pop singer Irina Florin – for the most successful debut of the 2006th.