Tag: Bobo Zander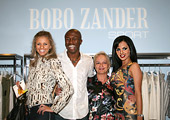 Models and photomodels
The most expensive football player in Bulgaria - Tiago Silva from Brazil, who will play in the Italy next season, was the attraction in the show for the opening of the new shop Bobo Zander sport, situated in the prestigeous shopping center TZUM.

He entered the role of a model together with the girls from "Ogledala" and received the applause of the guests of the event.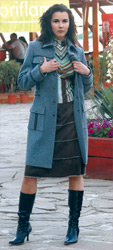 Young designers
The fashion show was opened by fashion house "Bobo Zander" near the sea shore. The fashion house that works for Escada and Basler presented its collection Winter 2006. The tourists watched amazed the girls dressed in long cashmere coats, woolen suits and fluffy collars.

The collection was divided in six themes like the six months from the autumn-winter season. A real heavenly garden was shown, full with fresh patterns and playful details. It was a feast for the eyes in the colours of the gipsy symmer. There were also ellegant ansembles with tender golden gleams.

The woolen fabrics were combined with sheer chiffon in the shades of gray-green and petrol. The last models that were presented were in white, the colour of eternity. Designer of the collection is Negoslava Bachvarova.